I went out West in the Spring, but I took the easy way, flying round trip. I didn't know that I would be going again, but this time in a 17-foot U Haul truck. Susan recently bought a house in Salt Lake and wanted to bring the last of her stuff she had in storage in Atlanta. She is very busy at work and I have already taken a lot of vacation time this year, so we wanted to minimize the amount of time we were away from work, but also work in some fun stuff along the way. She flew out Thursday, we packed the truck the Friday, and then headed out Saturday morning.

We set an ambitious schedule of driving first to Columbia, Missouri because St. Louis wasn't quite ambitious enough and Kansas City was too ambitious. We stopped in St. Louis and had dinner with some friends of mine from Vanderbilt. Their oldest daughter was actually home from the University of Missouri ("Mizzou") in Columbia after three weeks of school. Although Mizzou was having its season opening football game at home, she said all of the students were coming home this weekend (mostly to St. Louis and Kansas City, each 2 hours away) and even the students from Texas were flying home since it was just a game against Murray State. Maybe that's how we were able to get a room in Columbia on a home game weekend. We didn't get there until very late, about 11:30 and were dead tired after driving 675 miles and we were both coming down with colds. At some point during the night a guy walked into the hotel room and got in bed next to me. He was pretty drunk and had walked into the wrong room (the door must not have latched closed when it was shut). Once he realized what had happened he apologized and left. It was funny because he didn't turn on the lights, get undressed, take his keys out, or anything. That was probably good because he left in a hurry.
Here's the truck in Kansas:
The truck got about 10 miles per gallon and the tank would hold about 30 gallons. So it was about $100 to fill it up. As I got more comfortable with the truck and realizing the importance of making good time, I started driving 70-75 mph instead of 65 mph and the mileage dropped to 9 mpg. It was pretty comfortable and we made a lot of stops, but the days were very long. One highlight of the second day was as we drove through a big wind farm in Kansas with over a hundred giant windmills slowly churning. The second day was another 742 miles, but driving faster this time and not stopping long for meals, plus gaining another hour, we got to Denver at a more reasonable 9:30 with no visitors.
The third day as we got into the Rocky Mountains we got to see some engineering marvels including Eisenhower Tunnel under the Continental Divide, the highest point of the Interstate System and the longest mountain tunnel on the interstate system at 1.7 miles. We also saw I-70 through Glenwood Canyon along the Colorado River where people raft down the river or bike down bike trails, while two directions of interstate are above and train tracks run along the other side of the canyon. The highway is mostly on bridges or retaining walls (with a few more tunnels) and was only completed in the 90's.
By the afternoon we had made it to Grand Junction and the Colorado National Monument which has some great red rock canyon scenery. The 11′ tall truck made it through a tunnel with 10′-6″ clearance (by driving down the middle of the round opening which was really more like 16 feet) and up hairpin turns and narrow lanes. This was a really impressive place, even with just a drive-through tour, pulling off at viewpoints. Afterwards we passed into the most desolate territory of the trip with no services for 60 miles. It is so desolate that when you cross the border into Utah, they don't even put a welcome center for another 44 miles. We got to Moab, Utah that night in time for dinner after covering 354 miles (plus the detour to CNM).
The last day we spent mostly at Arches National Park just outside of Moab before heading back to Salt Lake City, unloading the truck, and retrieving Susan's car she had left at the airport, another 234 miles. Altogether we put 2,115 miles on the truck, just below what U Haul had budgeted for us.
One nice thing about driving a U Haul truck is it is always easy to remember where you parked. Here is the truck in Arches at the Balance Rock parking lot: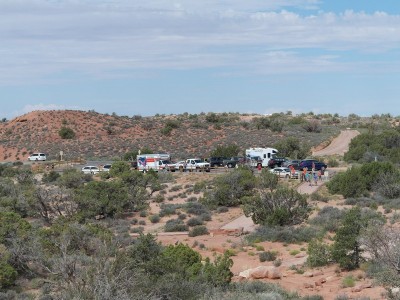 The next morning Susan dropped me off at the airport and I got home that night.