After visiting Colorado National Monument we drove to Moab to visit Arches National Park. Arches is kind of an offshoot of the much larger Canyonlands National Park to the south, but our time was very limited. We got to the park at sundown and checked out some of the exhibits outside the visitor center, but it was getting pretty dark and we decided not to enter the rest of the park. We got going the next morning, stopping by the visitor center again to "get information" which for some people means visiting the gift shop. But I did find out that a ranger talk would be given at 11:30 at the Windows area. This worked out fairly well, actually, as we spent a while at Balanced Rock before continuing on to Windows.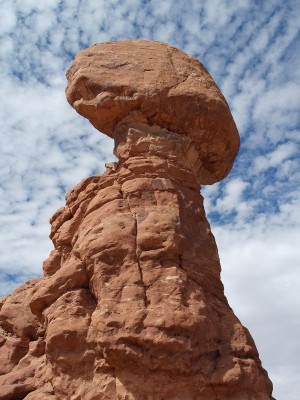 There are a couple of features in the Windows area. We started to visit Double Arch, but realized the ranger talk was starting in 5 minutes, so we hustled over there and met Aundrea, who has a degree in marine geology, which is perfect for Arches since the entire area was ocean at one point. She explained how a rising salt dome pushed up the brittle layers above them forming fins, and then water breaks down a layer of sandstone, forming voids in the fins which become arches.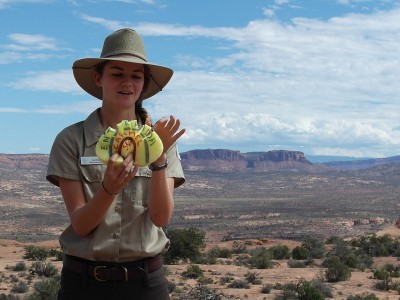 Her talk and walk was about an hour and led around the back of the South Window and North Window arches. Here is a panorama of the North Window next to the South Window:

And another view of the North Window: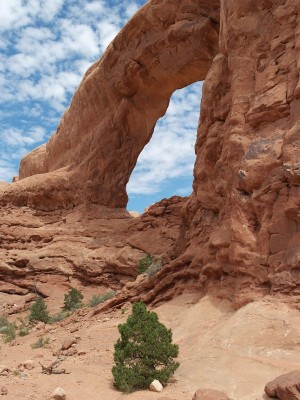 There were always a lot of people walking to the South Arch, shown in this panorama:

In the same area is the Turret Arch which has an arch and more of a hole, although any hole bigger than 3 feet is considered an arch: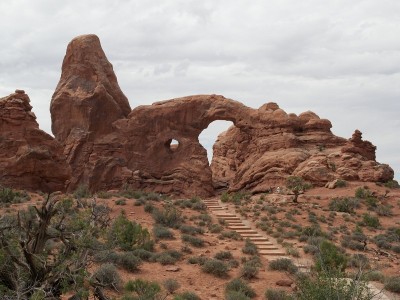 At this point we were kind of sunburned and thirsty and realized we were out of water (there are a ton of signs saying to use sunscreen and bring plenty of water). The nearest water was at the North end of the park so we skipped the Double Arch altogether and headed up to Devil's Garden immediately. We got water from a faucet that was like opening up a fire hydrant, but filled our bottles in about a second each. There is a good hike from there to see the longest arch in the park, Landscape Arch, but we were running out of time and still wanted to see the iconic Delicate Arch, practically the official image of Utah tourism, so popular it is even on their license plates. But as we were leaving there was a really cool set of fin formations that looked like a giant radiator coming out of the desert.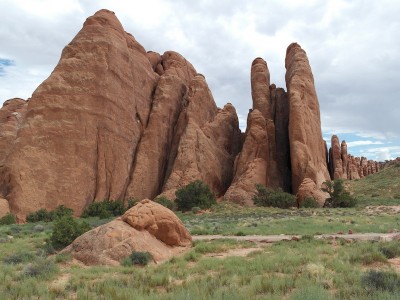 The fins are very close together, causing narrow passages like this: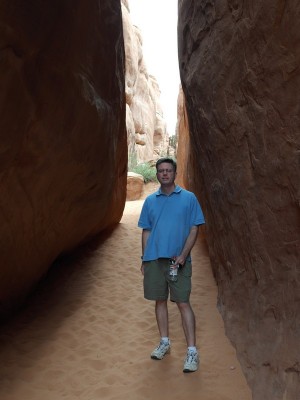 This passageway eventually opened up and off to the side was Sand Dune Arch which is actually kind of small, but practically indoors: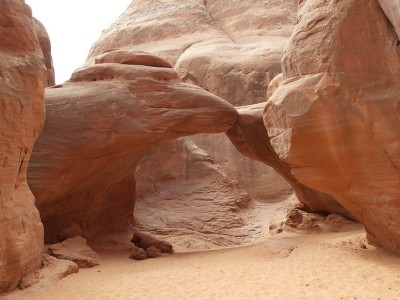 Outside the fin area was this cool tree: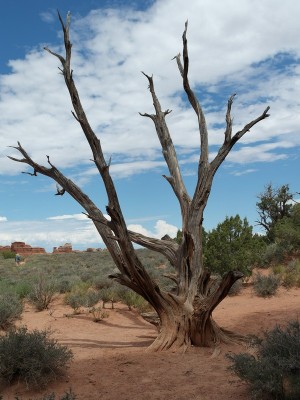 After that we drove down to see Delicate Arch. Susan was disappointed to find out that to visit Delicate Arch up close you had to endure a 2 hour "strenuous" hike and we didn't have the time or stamina for that. But there was also a Delicate Arch viewing area that you could practically drive up to, the only problem being it was about a mile away from the arch. The walk to the viewing area was surprisingly short and the arch looked about the size we saw on license plates, it was so far away. I used my Canon camera which has a better zoom lens and got actually a kind of decent picture. The interesting thing is that you can see people all around the arch, which we couldn't see when we were there. The larger people were at the nearby upper viewing area which wasn't that far away but up a pretty good size hill. So we were done with Delicate Arch even though we already had t-shirts with the arch on them.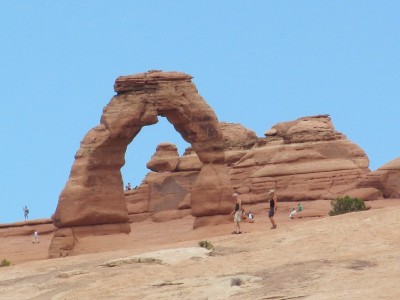 A little disappointed, we headed back towards the park entrance to return to Moab for a late lunch and then the drive on to Salt Lake City. But on our way out we stopped at a couple of points we had skipped previously because they didn't have arches and we were mostly interested in arches. One was Courthouse Towers, which featured this set of towers called the Three Gossips. This isn't a great picture because the sky was a little overcast in that direction and it wasn't the right time of day for the best sunlight: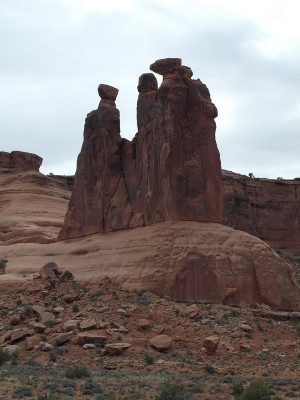 Here is the Courthouse Towers feature with the blob of rock on the top corner: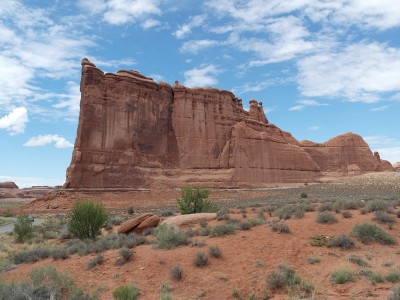 Just down the road from there was the Park Avenue viewpoint, which was really pretty spectacular:

If you look closely, you can see the distinctive shape of Courthouse Towers in the gap in the middle of the picture. Here's another picture: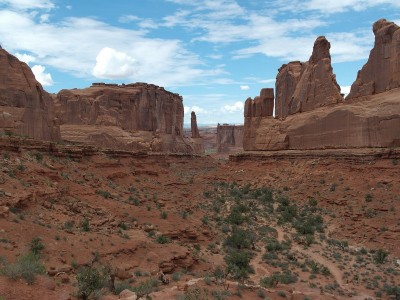 And then this detail of some of the more dramatic fins: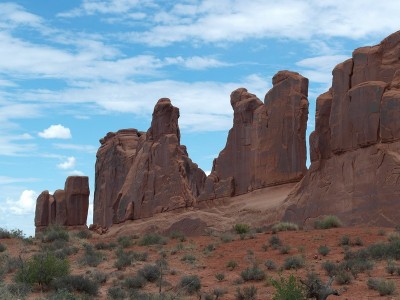 Then we really left. We got back to Salt Lake with enough time to unload the truck and get Susan's car from the airport, but just barely. If we had more time I would like to have seen the Double Arch. Also I would liked to have made the hike to Delicate Arch and the Devils Garden hike out at least to Landscape Arch which is so long and thin that it could fall at any time (pieces fall off of it every few years). If you make reservations in advance, you can take a ranger-led hike in the Fiery Furnace area which is supposed to be pretty great. So it would definitely be worth going back and then extending a visit to Canyonlands and Capitol Reef National Parks which are close by. Also with better timing I could get greatly improved pictures by visiting near sunrise and sunset when the shadows and light are a little more dramatic at Arches. There is also a state park in the area called Goblin Valley State Park which would be worth a brief visit in itself (especially at sunset; the movie Galaxy Quest based the scene where the captain meets the rock monster on Goblin Valley) but also has some very cool slot canyons you can hike through at Little Wild Horse Canyon.