Recently a couple of things happened. First, I bought some Marvel movies from Redbox. They were pretty cheap at $4 each but they come in a small Redbox case, nothing like a regular Blu-ray. I thought maybe if I wanted I could put together a case for the movies, but I knew I had to watch the cost because I could get these same movies brand new from Disney Movie Club for about $9 and they would include the case, a digital copy and Disney Movie Rewards points worth about $1.50.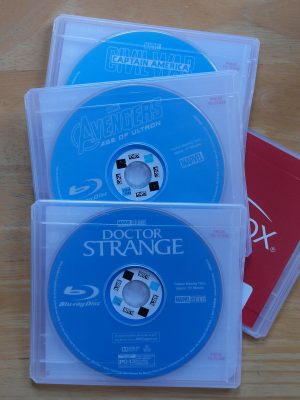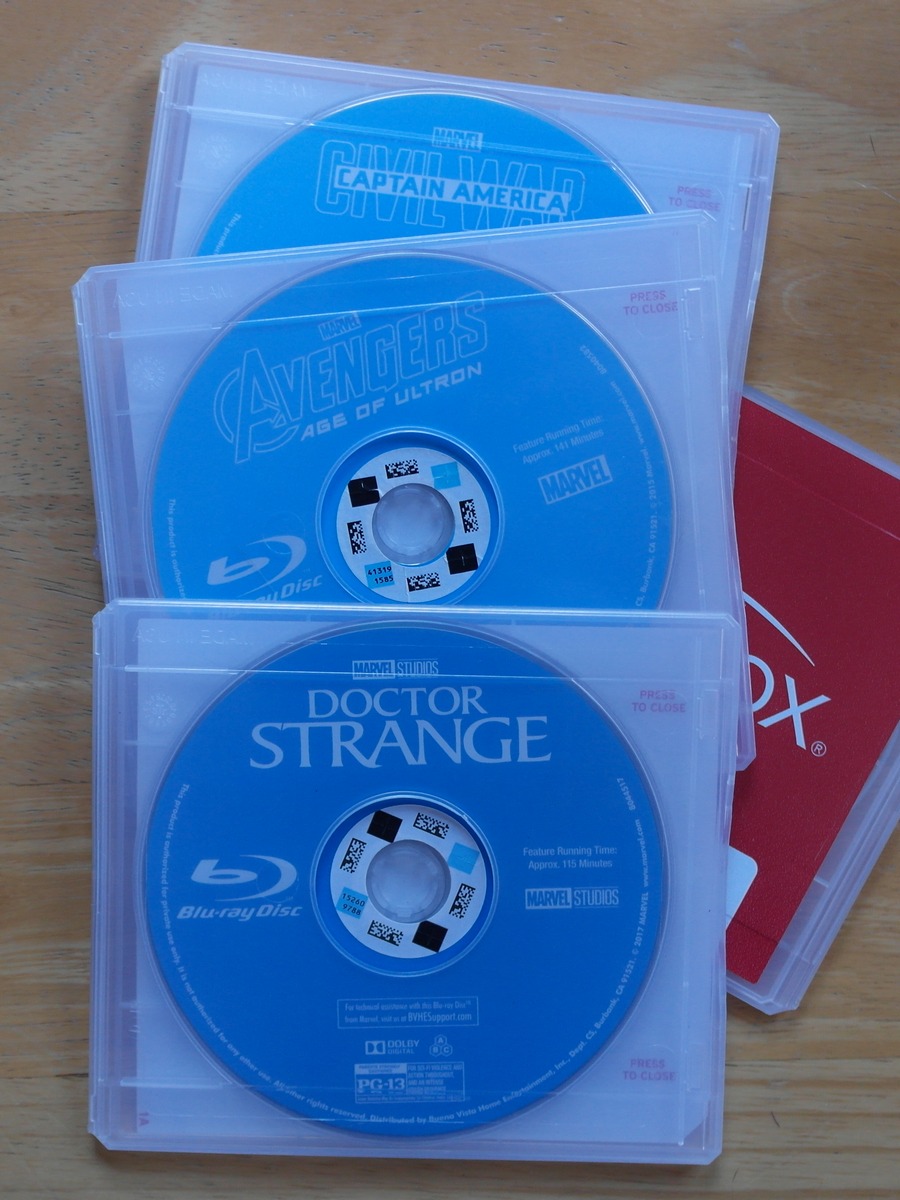 The second thing that happened was Dollar Tree was having a sale on blu-rays. Everything at Dollar Tree is $1, but they don't usually sell blu-rays. Movies that cheap are basically one step away from the landfill, so most of the titles are pretty bad movies that didn't sell as well as hoped and they are getting rid of all the excess inventory. But there are some decent movies mixed in. They seem to be mostly leftover stuff from Fox studios, so actual movies, not direct to video. Not usually a DT shopper, I heard about the sale on the forums at blu-ray.com. Someone even listed about 20 or 30 movies, almost all garbage, like The Longest Ride, which had a 23% fresh rating at Rotten Tomatoes. But there were some good things sprinkled in, like Enough Said, which has a rating of 96%. Also on the list was Fargo which is a legitimate classic, appearing at #84 on AFI's original list of the top 100 movies of all time and one I already had on DVD, but would love a cheap upgrade. Other movies that might be available that I looked for were Woody Allen's Blue Jasmine (91%), Foxcatcher (87%), Robocop, and Spider-Man 3.
I went to the store next to the giant Kroger and they had maybe 10 different titles. It was surprising how many of them included a digital copy of the movie and sometimes a DVD as well. For one dollar! The digital copy code is usually expired, but it still works. They didn't have anything I wanted, so I left. I went to another one not far away and they had a better selection and I was able to get their last copy of Fargo (alas, no DVD or digital copy). I hadn't seen anything else on my short list. After spending 10 minutes going through every movie, I took my one movie to the one open register and someone had gotten there with a cart full of items. Fortunately after a couple of minutes they opened another register.
The next day I went to another store which probably had the best selection yet, but the only thing I really wanted was Enough Said, a great catch for such a highly rated movie (and I have never seen it, but I remember it getting good reviews when it came out). However, some people on the forum were buying Dom Hemingway, which the first store had had, but had only a 59% rating at Rotten Tomatoes. But I figured for a dollar, I might as well get it. It has Jude Law and a digital copy. One of those is probably worth a dollar, or maybe both together. Maybe you can't go off of the casting: another movie I saw frequently was Paranoia which has a good cast with people like Gary Oldman, Harrison Ford, and Richard Dreyfuss, but got a mind boggling 6% at Rotten Tomatoes. Another one with a good cast was Before I Go to Sleep starring Nicole Kidman and Colin Firth, but with only a 35% rating.
The cheap movies got me thinking about maybe just buying a movie so I could use the case for one of my caseless Marvel movies. I looked up the price of empty blu-ray cases and on Amazon and eBay you can get 10 for about $13. So these were cheaper and I didn't have to buy 10. I'm still not convinced.
But here's a third thing: as I have been buying blu-rays, often I end up buying a copy of a movie I already have on DVD. Some blu-rays include a DVD copy as well (a lot of the Disney titles), but most of the cheap ones do not. However, if I could get a movie from Dollar Tree that included a blu-ray and DVD, I could throw out the disks and use that case to hold both my blu-ray and my old DVD and transfer the paper insert cover to the new case. That would leave me with an empty single blu-ray case for a Marvel movie! And it would save me some room on my quickly filling bookshelf. I went through my database of movies and found 19 blu-ray/DVD duplicates. However, some of the Disney DVDs I had were pretty nice, with a slipcover and a bonus DVD of special features which often did not make it to blu-ray. So I would leave those three alone. I had Spider-Man 1 and 2 and each of those came with two DVD's as well so I couldn't put both DVDs and a blu-ray in the same case unless I could find 3-disk cases, which is rare (the most I have is 4 disks for the movies Up and Oklahoma!). Also a couple of the duplicates I had bought on blu-ray had included a DVD already. Whatever, that still left me with about 10 movies where I could potentially combine the DVD and blu-ray into one 2-disc case.
So I went back to Dollar Tree, but they had mostly been wiped out. The first place I went to only had 1 2-disc movie left, Russell Madness, which, I'm not kidding, is a live-action movie about a talking Jack Russell terrier who becomes a professional wrestler and whose manager is a monkey (they couldn't get enough critics to watch it to get a rating on Rotten Tomatoes). At another store I ended up finding a 2-disc movie called Parental Guidance, a Billy Crystal and Bette Midler comedy which had a rating of only 17%. However, they were in excellent condition, so I bought 4 copies. The only bad thing about the cases is they had a UPC sticker securely glued to the back of the case that I couldn't remove.
The missing piece of my plan is the artwork. I needed to get copies of the blu-ray covers for the Marvel movies and print them on the correct size of paper which is 10.35″ x 5.83″ (which is great because it fits on a 8.5″ x 11″ sheet of paper). I thought this would be really easy because these are pretty popular movies and there are sites where people share scans of covers. However, a lot of those sites concentrate on making custom covers and then selling them. You have to buy a bunch of tokens for $6 and then use tokens to download covers which is how people get paid for their artwork (a cover might cost 40 cents in tokens). Sometimes their "artwork" is just the factory cover. I had just paid $4 for cases, so I didn't want to pay another $6, which would put me at $2.50 per movie on top of the $4 I paid Redbox, and getting too close to the $9 at DMC for new disks. Plus I would still need to print the cover, which I might be able to do at Staples for 50 cents a page on a color laser printer (not sure how that would look, but photo paper would increase the cost to a few dollars), but Staples may not even allow it since the images are copyright protected.
At the end of 2017 Marvel re-released their catalog of 10 or 12 movies with new covers, so there is a question of whether to try to find the new cover artwork or the original artwork. I figured the new ones would match my new copy of Guardians of the Galaxy I had on the way. But it isn't nearly that simple. There are different covers for the DVD, Blu-ray, and 3D Blu-ray versions of the movies. There are also the custom ones. But it is much, much more complicated than that because there are different printings for different countries. And the internet being a big place, you find a cover and it is for the 3D German version of the movie. Some countries put a large logo on the cover for the parental warning that looks terrible. So getting and printing the right artwork was a little more expensive and challenging than I hoped, but I was able to get somewhat decent images, though nothing I would want to pay for and not always the most recent re-releases. For the time being, I took some free images I found and printed them on my black-and-white laser printer (also free) with the following results: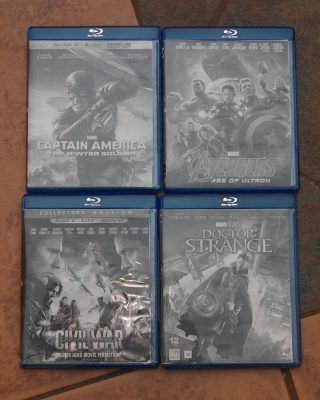 The two on the left are both covers for the 3D version of the movie but I have the 2D version. The top two are both from Canada which as expected isn't that different from the US release. The cover for Doctor Strange is from Scandinavia with the appropriate age rating on the cover. Interestingly Sverige and Danmark rate the movie for 11 years and up while Norge and Suomi rate it for 12 and up. They also include two icon warnings: one with a fist and lightning bolt and the other of a spider. So watch out for those.