Yesterday I wrote about my great, great, great, great aunt Harriet Straker Budden and her husband, Benjamin Bostock. I mentioned that Harriet's middle name came from her father's (James Budden) business partner, William Straker, of Barbados, who was also her uncle by marriage to her aunt Susannah Budden. These people lived in 1700's, so records aren't that great, but church records can preserve christenings, marriages, and burials, and become a very good source of information. The census only recorded male heads of household up until about 1850, so those are of limited use until 1860. Still you can Google these names and see what turns up, and sometimes you will find a newspaper article (James Budden and William Straker would post about indentured servants they were hiring for their shop). It gets complicated by the lack of standardized spelling (a constant problem in the census as well) so William Straker's last name was sometimes Stricker, Striker, or Streaker.
But one place I found William Straker's name pop up several times was in a book recording the proceedings of the Pennsylvania government in 1778, not long after the American Revolution, while the United States was fighting against the British. The United States worked very hard to get France involved in the war and they finally had sent over a fleet of ships and 4,000 soldiers under the admiral Charles Hector, comte d'Estaing. d'Estaing also carried the new French ambassador Conrad Alexandre Gerard de Rayneval. His fleet was sufficiently powerful to blockade the British fleet in New York harbor. During this blockade, a British ship was captured and one of the passengers was William Straker. He was originally from Barbados, but had moved to Philadelphia previously. However in 1775 he went back to Barbados to sell his holdings, and while he was there the war broke out. Since Barbados was held by the British, he figured he could get a ship to Britsh-held New York and then once in New York, get around the battle lines and back to Philadelphia. However the French fleet intercepted the ship he was on, taking him prisoner, and now the new ambassador asked Pennsylvania to award him Straker's five slaves he had with him. Straker was able to explain what happened and the Budden family vouched for him, so that eventually he was released and able to keep his slaves (these were his household staff and had been with him for years, so it was probably best for everyone for them to stay with Straker). All of this is told in a number of different entries in the proceedings of Pennsylvania's government, starting with a letter from the ambassador and ending with Straker signing an allegiance to the United States and an order freeing him and returning his property to him. Now here are the French coming to the rescue of the United States and their ambassador (who was also instrumental in France's decision to support the United States) has asked for something, so this was probably a pretty delicate issue.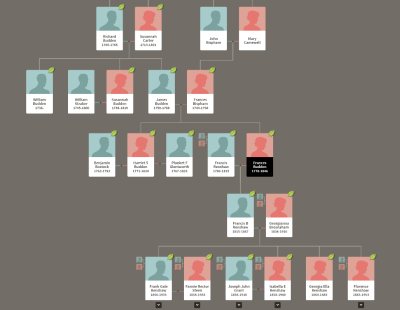 ---
Mons. Gerard to Congress, 1778
Translation from the original letter of Monsr. Gerard, 1778.
His Excellency M. the Count D'Estaing, Commander in Chief of his most Christian Majesties Forces on the Coast of North America, having sent here at the disposal of the underwritten, Mr. William Straker, taken on board the English Ship the Lord How, as well as Five Negro slaves he had with him, His most Christian Majesties Minister has the Honour to desire Congress will please to give immediate Orders that the said William Straker may be put into Prison, and there kept and treated as is usual with Prisoners of his condition, And that his five negro slaves be delivered to the disposal of the underwritten.
GERARD.
At Philadelphia, July 30, 1778.
Indorsed
Read 30 July, 1778. Referred to board of war.
---
STATE OF FACTS RELATIVE TO MR. STRAKER, 1778.
March, 1772.—I came in this City (Philadelphia) with my wife, who is a native to this place.
In April, 1772—I enter'd into Copartnership with Mr Budden, Br. to Mrs. Straker, of this City, Merchant, for the term of seven years, which term is not yet expired.
In April, 1775—I was under the necessity of going to Barbados, in order to settle our affairs there, which amounted to many thousand pounds, & have never yet been able to make a final settlement.
Upon my finding matters relative to America not likely to be made up, I concluded to return to this place, where the most of my fortune lay, & give my mite towards Establishing that freedom I always thought it Intitled to.
During my stay abroad I have not drawn my money out of the Country, but have sent bills to my partner, who has on account of the Company lent the States near ten thousand pounds, which is now in their hands.
I understood, before I left Barbados, I cou'd get out of this city to my partner, which being my full determination, I sail'd from thence in June last, with my family for Philadelphia, having no Goods on board but one cask Spiritt & one of Sugar, for family use.
During my residence in Barbados I was frequently insulted by the name of a rebelious rascal, and an attempt to pull my house down, my books being oblig'd to be hid for fear of their being burnt.
In respect to my negroes I never used any servants in my house, but blacks, five I carried from Philadelphia, and the same quantity I brought back, which Mr. Coombs, the Elder, can vouch for, as he used to receive the regular tax.
In addition to the above, I would beg leave to observe, I vested part of my property in freehold or landed Estate in this Country, which I yet hold, & ever looked on myself as a Citizen & Denizen thereof, and since my arrival have complied with every requisite of law by taking the Oath of Allegiance to the United States.
WM. STRAKER.
Philadelphia, August 6, 1778.
That I had purchased a Vessel in order to return to Philadelphia, but having sprung a Considerable leak, making three feet water in one hour, I took my passage on board the ship Lord Howe, who intended into New York, which port I imagined a vessel might easily be procur'd to transport myself & family to my destin'd port.
WM STRAKER.
---
PRINTED FORM OF CERTIFICATE OF HAVING TAKEN OATH, 1778.
I do hereby Certify, That William Straker, of the City of Philada, Mercht, Hath voluntarily taken and subscribed the Oath of Allegiance and Fidelity, as directed by an Act of General Assembly of Pennsylvania, passed the 13th day of June, A.D., 1777. Witness my hand and seal, the Sixth day of August, A.D., 1778.
[L.S.] Jno. Ord.
No. 1493
---
INFORMATION OF MR WILLIAM STRAKER, 1778
Relative to his five negroes taken with him by the Admiral Count D'Estaing .
Three of the above negroes, two males & one female, were his domestics in Philadelphia, previous to his going to Barbadoes, and are well known by those who were conversant with his family; the other two are, one a male of about twenty three years old, the other a washerwoman, & like the former mere domestics.
Aug. 13, 1778.
---
REPORT RESPECTING WM. STRAKER, 1778
At a Board of War, August 13, 1778.
Present: Mr. Peters, Mr. Pickering
The board having taken into consideration the memorial of the hon'ble the Sieur. Gerard, relative to Mr. William Straker's case, & made inquiry into the same, beg leave to refer Congress to the inclosed state of facts signed by Mr. Straker; and to add that they have seen the article of co-partnership referred to by him between Mr. Straker & his brother-in-law Mr. James Budden—that they find by Mr. Budden's information & letters, that Mr. Straker sailed for Barbadoes before the commencement of hostilities in April, 1775, and merely on the business of their co-partnership—That Mr. Straker during his absence did not draw his money on effects from hence, but on the contrary, transmitted a number of bills to his partner; and that the company have a large sum in the loan office of the United States.—That Capt. William Budden declares that he during the enemy's possession of Philadelphia, wrote to Mr. Straker, informing him that if he came to Philadelphia, he could easily pass from thence into the country—this also is certified jointly by him & his sister Mrs. Wilson. That since Mr. Straker's return to Pennsylvania, he has taken the oath of allegiance & fidelity to the State.
From this view of his case, the Board submit to Congress the following opinion:
That Mr. William Straker, lately taken on board the ship Lord Howe, by the fleet of his most Christian Majesty, is and ought be considered as a subject of the State of Pennsylvania; and that the hon'ble the Sieur. Gerard, Minister of his most Christian Majesty, be desired to release the said Mr. Straker, and cause his property to be restored to him.
By order of ye Board,
TIM PICKERING
---
RESOLUTION or CONGRESS RESPECTING WM. STRAKER, 1778.
In Congress, Aug. 14, 1778.
The board of war to whom the memorial of the hon'ble the Sieur. Gerard,* relative to Mr. William Straker was referred, having made report thereon, and the same being read,
Ordered, That the said report and papers referred to relative to Mr. Straker, be referred to the government of the state of Pennsylvania, to determine whether they will consider Mr. William Straker, lately made a prisoner by the Count d'Estaing's squadron, as a citizen of the state of Pennsylvania, and if the said government shall determine to consider and receive as a citizen of their state the said William Straker; that they be desired to transmit a certificate of their determination to the Sieur. Gerard, Minister plenipotentiary of his most Christian Majesty.
Extract from the Minutes,
CHA. THOMSON, Sec' y.