One of Mom's ancestors is Commander Francis Bostick Renshaw, who was a naval officer in Pensacola before the Civil War and then switched sides when war broke out. His daughter, Isabella, married Joseph John Grant, Mom's grandfather.
Frank Renshaw's middle name, Bostick, comes from Benjamin Bostock, who married Frank's aunt, Harriet Straker Budden (actually it isn't 100% clear what the B in his middle name stood for; it could also be Budden; typically he wrote his name as Francis B. Renshaw or Frank B. Renshaw). Harriet was the daughter of James Budden and the granddaughter of Richard Budden who may have brought the liberty bell to the United States. James Budden fought in the Revolutionary War and corresponded with General George Washington during the war. He married Frances Bispham who was from Barbados, a British colony in the Caribbean. So they are my great, great, great, great grandparents. Their daughter, Harriet Straker Budden, whose middle name came from James Budden's brother-in-law and business partner, William Straker (who moved to Philadelphia from Barbados; more on him some other time), married Benjamin Bostock, also from Barbados. So maybe Harriett's mother used her Barbados connections to set that up somehow. In fact, shortly after his marriage to Frances, Benjamin gave his mother-in-law a Barbados sugar plantation which she was to use as a sort of trust to take care of her daughter, son-in-law, and their children.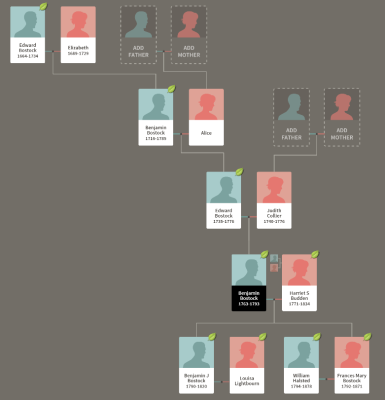 The records of the Bostock family in Barbados are amazingly thorough thanks to good church records and a couple of wills that were preserved. Benjamin Bostock was the great grandson of Edward Bostock, a gunsmith who immigrated to Barbados in 1713. Benjamin's grandfather, also named Benjamin, was born in Barbados in 1716, and would come to own several sugar plantations and a cooperage (where they make barrels), which he left to his grandson, Benjamin, in 1785, when Benjamin was only 22, the grandfather's only son, Edward, having died in 1776. Four years later Benjamin married Harriet Straker Budden in Philadelphia. They had two children, including a son (another Benjamin) born in Barbados, and a daughter, Frances, before Benjamin died in Philadelphia in 1793, buried with the other Buddens (and Benjamin Franklin) at Christ Church (according to one source, but not the church records that I can find). Benjamin left £4,000 to his daughter, which was a ton of money back then, and a sugar plantation to his son (which he eventually sold for £22,000). Frances Bostock married a United States congressman from New Jersey, William Halsted. The son, Benjamin James Bostock, went to college in Pennsylvania and became a lawyer in Bermuda.
Soon after her husband died, Harriet married the doctor that had taken care of her husband while he was ill, Dr. Plunkett Fleeson Glentworth, which is just a great name. Dr. Glentworth was the son of Dr. George Glentworth who was a surgeon in the Revolutionary War and removed a bullet from Lafayette after the British defeated the Americans at the Battle of Brandywine in 1777. He also was one of the founders of the Pennsylvania College of Physicians.
Given the tragedy of Benjamin's death at the age of 30 and how well he provided for his family, maybe it is no surprise that Harriet's sister, Frances, would choose the name Bostock (or Bostick, spellings weren't always standardized) for one of her sons, Francis Bostick Renshaw.
Familysearch.org has a lot of the Barbados birth records available online, but there is a book on Google with a genealogy article about the Bostocks from 1952 that puts everything in one place.