A couple of weeks ago I went to Fry's to buy a copy of Trend Micro Internet Security which would be free after two rebates. I really try not to buy anything else at Fry's because if it isn't on sale, it usually isn't a good deal. However I have been looking to upgrade my Lexar Firefly jump drive that I raved about a couple of years ago. My rule is I don't like to spend more than $10 on a thumb drive. They had a bin of Kingston Data Traveler 110 thumb drives with 2 GB of memory for only $9.99, so I bought one. That's four times as much memory as the Firefly. It's a decent drive, but bulky compared to the Firefly. The USB part slides out so it doesn't need a cap, but it has to be connected to my keychain when I plug it in and it blocks adjacent USB drives due to the large size.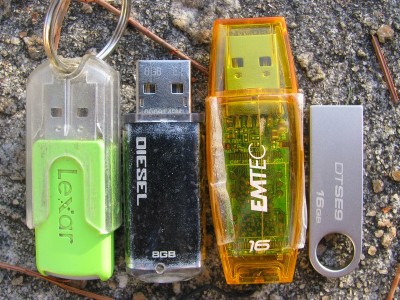 Naturally, the following weekend Fry's advertised a 4 GB Firefly for less than $10 after rebate. I looked up the Firefly on Amazon and there were a lot of complaints about it being slow. If I was going to be moving 4 GB of data, I didn't want that data to move slowly. So I decided to run a test. I moved a 344 MB video file (appropriately enough, an episode of the TV series Firefly) to the Firefly and timed how long it took: 129 seconds. Then I measured how long it took to copy the file back to my computer: 40 seconds. So the write speed was a lot slower than the read speed. Next I tried the Kingston drive and got 57 seconds for writing and 19 seconds for reading. That's more than twice as fast. At work I have e-mail archives that are about 2 GB and I need to bring them home for a backup. That would be 12.5 minutes on a Firefly and only 5.5 minutes for the Kingston. That's a big difference. It seems like these speeds should be posted somewhere. So here they are (in megabytes per second) [USBDview results in square brackets]:
| Drive | Write | Read | USBDview |
| --- | --- | --- | --- |
| Lexar Firefly 512 MB | 2.67w | 8.61r | [ 2.39w 7.48r] |
| Kingston Data Traveler 110 2 GB | 6.04w | 18.12r | |
| Corsair Flash Voyager 8 GB | 5.17w | 22.40r | |
| 60 GB Archos | 0.98w | 7.65r | |
| 20 GB HD Enclosure | 7.83w | 18.13r | [11.29w 18.06r] |
| Microcenter 4 GB | 3.51w | 19.13r | [ 2.80w 20.07r] |
| OCZ Diesel 8 GB | 6.62w | 19.13r | [ 9.68w 17.56r] |
| Emtec C400 16 GB | 9.83w | 14.96r | [ 9.14w 15.64r] |
| Kingston SE9 16 GB | 6.43w | 14.02r | [ 6.43w 16.97r] |
| Simpletech 320 GB hard drive | 22.96w | 22.96r | [19.01w 31.82r] |
| 32GB SanDisk removable | 22.96w | | [10.81w 21.82r] |
I decided that as much as I like the form factor of the Firefly, I didn't want to wait so long and so I didn't get the 4 GB model.