In May my monthly mailing from Disney Movie Club included a gift: a packet of tiny flower seeds commemorating the re-release of Bambi on blu-ray and DVD.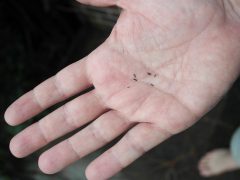 I'm not generally much into gardening, but I like free things and the seeds were worthless if I didn't plant them in the ground. I pulled weeds from one spot in my front garden and planted some seeds there. I also planted some in two planters I had used last year for some petunias.

I kept the seeds watered and within a week there were little green plants coming up. I figured most of these were weeds, so I waited a while, and sure enough almost all of them were weeds, so I pulled those. In the garden plot I got some weeds, but I also got some nicer looking leafy twigs coming up. These turned out to be flowers from last year that had re-seeded themselves and pretty soon they took over that little patch. Those flowers from last year were so vigorous that one of them even sprouted in a crack in the driveway.
Eventually some interesting things started coming up in the planters. They were hairy green leaves, so I looked up pictures of gloriosa daisies and some showed hairy leaves like that, so I figured I was doing okay. There was something else as well that didn't seem to be a weed, so I didn't get rid of it either. Eventually I had 3 little daisy plants in one container and one in the other plus the mystery plant. They grew pretty slowly most of the summer, with the leaves getting bigger and more of them popping up, but no flowers. I never got any daisies to come up in the garden plot which was overrun with pink flowers. The mystery plant turned out to be a purple petunia from last year.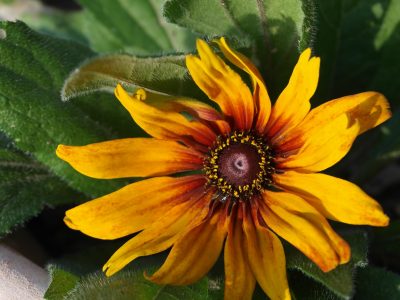 Since the daisies are in the rudbeckia family (black eyed susans) they should be perennial. The seed packet even said they were perennial. So my plan was to eventually transfer them to the ground so they might come back next year, though I have planted black eyed susans in the past and they didn't come back. I have had more luck with purple coneflowers that have been coming back for years.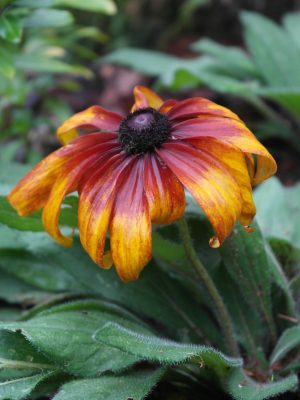 Maybe at the beginning of September, the plant that was roommates with the petunia showed a bud at the center of the plant like a tiny cabbage. These plants are supposed to be really tall, but mine never got tall, maybe because the container is only 6 inches deep or so. I checked up on it pretty regularly and finally by the end of September it got a little taller and opened with a nice flower. One free flower. The other plants never did flower, but maybe they will come back.
After I got the flower, I waited a while for some good weather, and with rain in the forecast, transplanted all of them into the garden near the pink flowers. As the flower matured it got more autumn colored and the seed head changed some. The last picture was taken today.