In October I was nearing the end of my AT&T U-verse contract. I had upgraded my internet from DSL with them, getting bundling discounts by combining a horrible TV package that they basically paid me $5 per month to accept (non HD, not much more than local channels), but the deal also included HBO (including HBO Go online) and a year of Amazon Prime, which Eric has made good use of. The total cost was about $50 per month for 18 Mbps internet service (that was really in the low 20's, so better than expected). When it came time to renew, I hoped to get internet only and hopefully get the price down a little, maybe to $40. But when I called them, they had no interest in giving me any kind of reasonable deal, and said internet only at that speed would be $60 per month. I told them to let my service stop at the end of the term. And they were fine with that.

So the only other game in town to speak of is Comcast. I hoped to get a good deal for them and looked around online, finding another TV/internet bundle online for $39.99 per month. A modem was going to be an extra $10 per month, but I could buy my own at Amazon for about $40 and avoid the charge. I ordered the TV bundle online which included Showtime instead of HBO and scheduled an installation which would happen about 10 days before my AT&T service ran out.
A few days after I placed the order I called 1-800-COMCAST to see if I could switch Showtime to HBO (I've enjoyed watching John Oliver's show on HBO for the last year), but they said no, not without canceling my order and then paying more. So whatever. I didn't really expect them to give me something I wanted that wasn't in the original deal.
When the installer came he said he couldn't get a clean internet signal and he had to call Comcast in to fix the line to the pole near my house so that he could complete the installation. He thought they might be out there that afternoon (ha!). A week later, I hadn't heard from Comcast and called to see if the line problem had been fixed. They said they would look into it and call me back, which they never did. My service with AT&T expired and I was now without internet. I called Comcast again and they said oh yeah, the line problem had been fixed but my order had been canceled. They could set me up with a new plan. I said Can I get HBO? And they said sure. What they didn't tell me is that instead of $39.99 it would be $49.99, which I would find out later. They also said they couldn't get an installer out before November 21, which was over a week away, and meanwhile I would have no internet. The guy said he made a special deal with his manager so that I would go to the top of the list if anyone's installation appointment was canceled so I could get service any day (of course, they never called me).
A few days later, while I was waiting for the install, someone called me from Comcast and said they saw that I recently had an order with Comcast that was canceled and they would like to get me back. I was interested. I said really I never wanted TV and was only interested in internet. She said, how about 75 Mbps for $39.99 a month? I said that sounded pretty good, but I didn't need that kind of speed. Did she have something cheaper? How about 25 Mbps for $19.99? I said sign me up! She went to sign me up and saw that I had a new order, this time for even more money than my order that was canceled (hmmm . . .). She said she couldn't help me unless I canceled that order and she advised me *never* to call 1-800-COMCAST. I did call them to cancel and they made a half-hearted attempt to keep my service but their offer was still terrible. I called my new friend at Comcast and placed the order, but it pushed the installation back a few more days. She pointed out that as a Comcast customer, I should be able to set up my account online and then log on to any xfinitywifi hotspot while I wait for the installation and she noted that my neighbors 2 housesa away had just such a hotspot that I should be able to receive at my house (a lot of Comcast modems broadcast one signal to the customer's house and a second signal as a public hotspot). The xfinitywifi thing is also neat because they will let you have two 1-hour sessions per month for free and you can also pay by the hour as needed if you aren't a customer already. As it turned out, I couldn't log on with my current account since my service had not been initialized yet, but Eric also has Comcast and I was able to use his logon to get on to my neighbor's hotspot from my house. It was kind of slow and weak, but it was internet.
The installer came out on the appointed day and got me hooked up using the refurbished modem I had bought and my wifi router. The only problem was I was getting less than 1 Mbps using wifi. I checked the connection on computer that is wired to the router and it was 25 Mbps so the problem wasn't with Comcast but my router. I was able to find out how to update its firmware and I was up to 24 Mbps or so via wifi. Yay! They installed a large Comcast box on the side of my house, but when I opened the box, there wasn't much inside, just the exterior cable connected to the interior cable.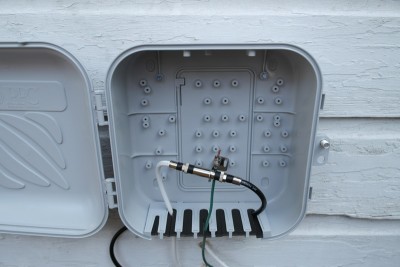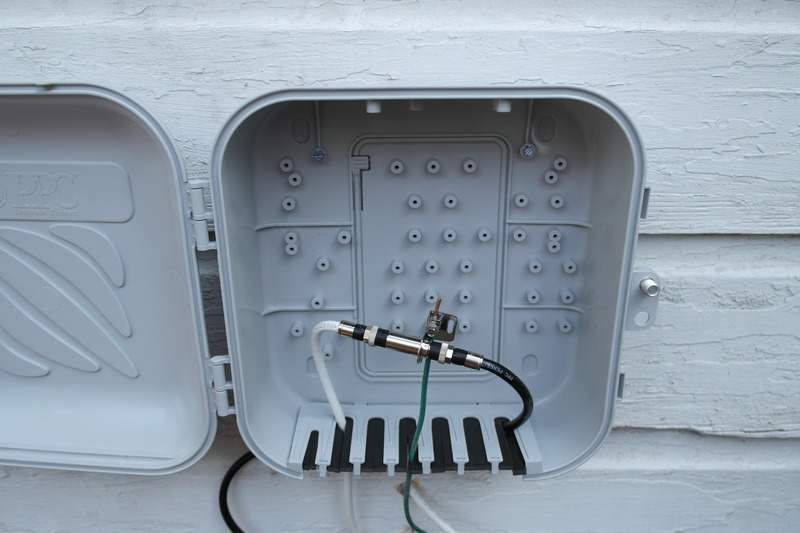 So now I know that I should never call 1-800-COMCAST and that their customer service is every bit as bad as their reputation. However, they have some person who was willing to give me a great deal, great customer service, and pointed me towards their enormous network of hotspots, which I can get in all kinds of places now.