One of the neat things about FamilySearch.org, where I work on the family tree and look up records, is that it is collaborative, like Wikipedia, so people can work on their family trees and eventually maybe everyone will hook up into one giant tree.
You can select people to follow and see a list of all the changes being made to them. For the most part I only follow direct ancestors, even though I have worked on a lot of brothers, sisters, cousins, and spouses of those direct ancestors. Going back about 5 to 7 generations in all directions, I'm following about 100 people, and I see changes to one or two of them every couple of weeks, usually the most distant ones since they have the most descendants that might be interested. Recently I saw a change made way, way back on my direct maternal line, which got me looking at that branch of the family.
If I follow my maternal line back I run into my great, great grandmother, who was born Emma Ann Farr and who married Rufus Chapman McCord (I've written about the McCords before). Rufus McCord died pretty young, but had a lot of kids for Emma to raise. There is a great picture of Emma and her children and grandchildren, taken in Birmingham on Easter 1922 (shown below, she is in the middle with the lace collar). The picture includes a big chunk of that part of the family, including 3 generations of my ancestors, down to my grandmother, Helen Brunson, who was just 15, born in Little Rock, Arkansas in 1907 (second from the right on the back row). She got married the year after this picture was taken, at age 16, but her marriage license said she was 18. Helen's mother is Velma McCord Brunson, on the left side of the picture in the white blouse and directly above her is her husband, Roy Brunson.

I didn't have much information about Emma Farr originally and George's giant genealogy book didn't list her parents, but someone else filled in a bunch at familysearch.org. They mostly came from Tennessee and North Carolina. Her grandparents were Ephriam Farr and Ester Latta. On the page for Ester Latta today, Familysearch suggested a source I could attach to her for her marriage to Ephriam Farr in Mecklenburg County, North Carolina in 1801 (very cool, a handwritten marriage bond agreement signed by Ester Latta's father and the groom, Ephriam Farr).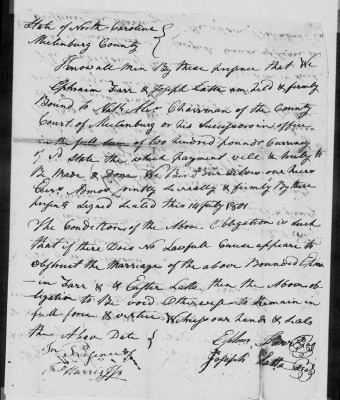 Someone had already entered their marriage date (a few weeks different and in Rutherford County, Tennessee, where they settled soon after), but it sure looked like a perfect match. So she probably lived in Mecklenburg County, which can help in searching for other records. Her father, already listed at FamilySearch, was Joseph Latta, but they didn't have her mother named, so I looked up Joseph, residing in Mecklenburg County to see if I could find anything and came up with 1790 and 1800 census records for him in Mecklenburg County. Back then the census only included the head of household by name and then the number of people in the house by sex and age range, so I still didn't have his wife's name. Next I tried Google to see if I could find his wife, searching for "Joseph Latta" and "Mecklenburg". I found a page on the Latta family website that has Joseph Latta having married a woman with the last name Nesbit in Mecklenburg (so that's new information!). And below that was Ehpriam Farr marrying their daughter Ester Latta. Then below that a daughter of Ephriam and Ester marries someone else, and it follows down, and down to William Jefferson Blythe, then William Blythe, Jr., and William Blythe, III, the youngest born in 1946. Sadly, before the birth of William Blythe, III, his father died in a car accident. The mother, from Hope, Arkansas, married again, this time to a man named Roger Clinton. The son, only 4 years old, was legally adopted by Roger Clinton and changed his name, dropping Blythe III to become William Jefferson Clinton. When he grew up he was elected president of the United States.
Now this goes way back to Ephriam Farr and Ester Latta, and I haven't confirmed any sources other than the Latta family's article, but that chain has already been entered at Familysearch.org, I had just never followed that branch. The pages for the William Blythes are locked so nobody can edit them, and you can't see living people, so Bill Clinton doesn't show up at all there. I counted the generations back and Ephriam and Ester are two of my 64 great, great, great, great grandparents as well as Clinton's. So that makes us 5th cousins. How many fifth cousins does a person have? I found one estimate that said a guess is that most people would have 4,800 fifth cousins if the average number of kids is 2-3 (I guess who have kids). There could be a lot more than that, but still it's not like a very big portion of the population is fifth cousins with one another.
FamilySearch has William Jefferson Blythe listed as William Jefferson Blythe, II, named after his uncle of the same name, making Bill Clinton born as William Blythe, IV, but Wikipedia has him as III. And I can't find any hard evidence that the father of Emma Farr, John Lewis Farr, who is definitely part of our family, was the son of Ephriam and Ester Farr. Some sources don't mention John Farr as a child of Ephriam while another says there was one but he moved to Missouri instead of Mississippi. Still it seems pretty likely.