I feel like I have charted out most of the family tree that I can, or at least that I want to chart, so I was copying information from familysearch.org to a spreadsheet I have of all the people in the tree. This is pretty good, because it makes me go back and look at people and see if I'm missing anything or if I want to do a little more research. Lately I have been working on the children of Alexander Grant, Jr., who is Mom's great-grandfather (the son of Scotsman Alexander Grant). He had a lot of kids, mostly born in New Orleans, but at some point after the Civil War they all moved to Pensacola. One of his daughters, Kate Grant, married an Irishman named Martin Sullivan who, with his brother Daniel, started the First National Bank of Pensacola, owned a lot of land in Florida with timber, started a lumber yard, and bought a railroad. He described his occupation on one census as "capitalist" and died a millionaire in 1911. The second in charge at a bank was often the cashier, and the cashier at First National was W. A. S. Wheeler. William Wheeler married another one of Alexander Grant's daughters, Julia Grant. They had 3 daughters before Julia died at age 32 in 1892 and got a really nice gravestone at Saint Michaels Cemetery in Pensacola. The youngest of William and Julia's daughters was Emelie Wheeler (spelled "Amelie" later in life). After Julia died, W. A. S. Wheeler moved to Natchez, Mississippi, and Emelie became a New Orleans debutante. She married Robert Irby, the son of a very wealthy tobacco executive in New Orleans named William Irby. William Irby was also a New Orleans philanthropist who saved some historic French Quarter buildings and donated them to schools and museums. Tulane has a dormitory named for him. There is a great article about him here.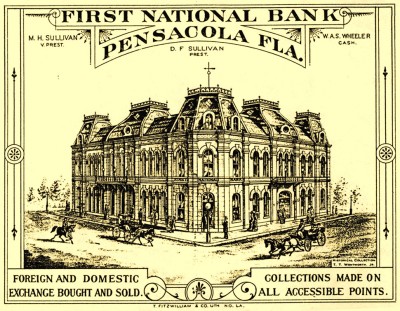 Anyway, I was entering Amelie and Robert Irby into my spreadsheet, but I noticed that I didn't have any record of when they had died, even though they were born in the 1880's based on census records, so they must have died at some point. Sometimes familysearch has death records, but they are hit and miss. If you can find their gravestones on findagrave.com then you usually get the date of death, but I couldn't find that either. Louisiana has some pretty good death records online, but they don't seem to go past 1910. Sometimes you just Google a person and maybe the city they lived in and hope something comes up, often on a genealogy website, but sometimes you might find something more interesting like a news article. I was able to find Robert Irby's World War I draft registration card on familysearch, which is great because it gave me an exact birthdate and his middle name, Garland. I googled his full name and came up with a book by the Theta Delta Chi fraternity with alumni updates that mentioned Robert's chapter ΧΔ (which Wikipedia tells me is George Washington University in Washington, DC) and announced that he was engaged to Emelie Wheeler of New Orleans, the text apparently coming from the March 27, 1913 New Orleans Picayune (note that William Wheeler has remarried by this time):
Mr. and Mrs. W.A.S. Wheeler, of Natchez, Miss., announce the engagement of their daughter, Emelie, to Mr. Robert G. Irby, the marriage to be celebrated in the early summer. The announcement of the engagement of Miss Wheeler and Mr. Irby is of much interest in the social world, in which both are popular and prominent. The bride-elect is a debutante of two years ago, and spends much of her time in New Orleans with her uncle, Mr. Augustin B. Wheeler, and the latter's daughter, Miss Audley Wheeler. She is charming and attractive, and has been greatly admired and feted since her debut year. Mr. Irby, the bridgegroom-elect, is the son of Mr. W. R. Irby of New Orleans, and is popular in the business and social world. Both Miss Wheeler and Mr. Irby are members of old and distinguished families with wide connections here and elsewhere in the South.
Then I found the 1920 census which has Robert and Emelie living in New Orleans with their 5-year old daughter, Jane. By the 1930 census Emelie's marital status is widowed and Jane is now 15. In familysearch's record search for Emelie there were several immigration papers for Emelie going to New York with Jane. At some point I found out that Jane married Prince Alexis Obolensky, from an old dynasty of Russian royalty whose family fled to New York via Paris after the 1917 revolution (though they were in a different family than Czar Nicholas). Here's a newspaper photo of them on their way to their honeymoon in Palm Beach in 1939: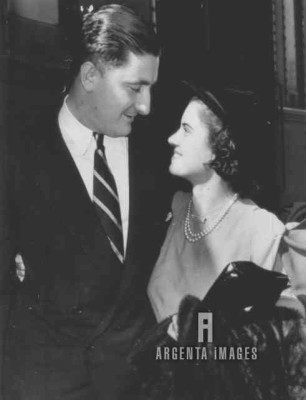 It's hard to know how important or wealthy a Russian prince might be. At least one of the family became a cab driver in Paris. But Wikipedia describes Alexis as a "socialite" and "the father of modern backgammon," a game he helped popularize in the 50's and 60's. Jane's great-grandfather is Alexander Grant, Jr., the same as Mom's great-grandfather, so Jane and Mom are second cousins. That makes me third cousins with Jane's three children, Anne, Alexis, and Mary, though they are much older than me. Mary died in London in 1986 of leukemia and Alexis died in 1999, but Anne is still living in Palm Beach, Florida where she was raised. Her birth was actually announced in the December 25, 1939 issue of Time magazine. I'm thinking all of the women in this family were very good-looking, and there are a few pictures I have found that back that up. Maybe most interesting is an article from a Daytona newspaper in 1965 describing the life of the not entirely idle rich family, mentioning that the children have jobs and the daughters do occasional modeling.
Eventually Jane and the prince would divorce and he died in 1986, with an obituary in the New York Times. In 1972, Jane would marry for a fourth time, according to this article, which seems to also indicate that her mother is still alive and now married to a George D. Lilly. However, even with the new last name, I can't find out when Emelie died. So I'm back where I started, except I at least know that Robert Irby died between the 1920 and 1930 censuses and Emelie was probably alive in 1972.
Here's a tree to show some of what is going on. W.A.S. Wheeler is on the left in about the middle vertically. Emelie is highlighted in brown. Mom's father is on the far right of the tree, the youngest in his family. Click on the image below to see the image file (you may have to do something to view it at full size because the image is probably bigger than your screen).