As part of my kitchen update I am getting rid of the old formica countertop and backsplash and replacing it with a new formica countertop. And tile seems like a good choice for the backsplash instead of matching formica. Tile looks good and is very durable. I also have a bunch of tile left over from when the bathrooms were done. I couldn't believe how much tile was left over from that project, so I have been looking for a way to use it. It is just plain white tile, 4.25″ x 4.25″, but some of the tile has a matte finish for using in the floor of the shower while the rest is regular glossy. There are edge pieces too. Then there are tiles left from the main bathroom which look kind of like marble.

When I ordered the countertop, the Home Depot guy said I needed a small lip in the back of 1 or 2 inches. I told him I wanted to do a tile backsplash, so he was ready to sell me subway tile, which are 3″x6″ tiles that you lay out like bricks and are used in New York's subway. It's all about subway tile now. But I wanted to stick to my leftover square tiles, but maybe dress them up a little with an accent or different color tiles every now and then. They make sheets of glass mosaic tile that look pretty neat and make a good accent or stripe to give a little interest to a shower wall or backsplash, so we looked at a few. I found one sheet that had some neat greens, blues, and grays, but it wasn't in a package and he didn't know the price or where he could find any more of those. He said he would look at another Home Depot, but I doubt that happened. He said that companies get a big supply of tiles, then produce these mosaic sheets for a while, and then discontinue them. That way there is always something different out. So this is probably a leftover of something discontinued, but one 12×12 sheet wasn't going to help me out much, even if I cut it into 3″ strips.
I ended up finding some glass tile mosaic on eBay that looked like it was what I wanted, though actually it has a lot more brown in it. The Home Depot guy had picked out one that had little marble tiles in it every now and then in addition to the glass that he thought picked up the vinyl floor pattern we had picked out. This one had that and some gray and some kind of greenish. So I ordered 4 of those which, cut into 3″ strips should go all the way across the 12′ counter.
With the lip on the back of the counter, the backsplash needed to be 14-15″ high. So I wanted to figure out some pattern that would come out that height. I thought if it was partially diagonal and partially horizontal that would be good, but the Home Depot guy said that the stripe was already giving it some interest and you didn't want to make it too complicated. He also wanted subway tile, which you just stack in horizontally. But the advantage of the square tile is doing patterns with angled pieces to make diamonds. Also I read somewhere that the accent piece needed to be up a little higher in the design because stuff on the counter would block you from seeing it if it was down low.
This week the company came out to measure the countertop. The guy who measured was an older guy. He thought it was great that I was getting laminate and that it was a much better choice than granite which he said harbors germs and can grow mold on the underside (he said that's why you never see granite in a restaurant). The laminate could be printed with a granite look that wouldn't repeat for 8 feet. I showed him the sample of mine which is not a granite look, and he seemed to like it, saying it had the look of a dark quartz. He also said I shouldn't get a lip on the back of the countertop because it would just interfere with the backsplash. So lip be gone. Now I have a 16-inch backsplash (though we'll have to see once the counter is installed; it could be a little different than the current one).
I started trying some combinations of tile. The 3″ stripe plus some multiple of 4.25″. 3 rows of 4.25″ plus the 3″ stripe is 15.75″ which is close, plus maybe you'll get a little more because of the grout lines (which I think are 1/8″ though maybe 1/16″). A 4.25″ tile placed diagonally is almost exactly 6″ tall. So I played around with combinations of the 3″ stripe, 4.25″ horizontal band, and 6″ rows of diamonds. I couldn't come up with anything that used diamonds and straight pieces as well as the stripe. Eventually I realized that when you add a second row of diamonds, it really only adds 3″ since they nest with the other diamonds. 9″ of diamonds, 3″ stripe, and 4.25″ straight at the top came out to 16.25″. They could trim the straight ones if necessary. So that was looking like this: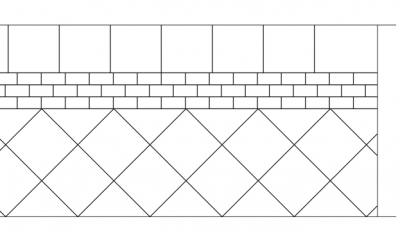 Now that I had a design, I figured out how many tiles I needed. The ends of the counter would be 24″ x 16″, so I would need 6 straight, 7 diamonds, 10 triangles (18 tiles). On the left side I would need 12 straight, 17 diamonds, 19 triangles (39 tiles) and the same to the right of the window that is in the middle. Under the window is only 6″, so I would need 6 diamonds, 14 triangles (13 tiles). That's 127 tiles total (36 straight, 91 angled or cut in half).
Then I went to see how much tile I had left: In the box of matte tiles, there were 72 tiles and 52 tiles in the box of glossy. So this wasn't going to work at all. Even if I incorporated matte tiles into the top row and the ends, I couldn't stretch them that far. So I didn't actually have that much tile left over at all. I could do the edges, but they make a rail that you can use as an edge instead of a real edge piece which works out better because in order to use the tile edge pieces you have to add a piece of board under the tiles so the edge can lip over it. You can pay for board and installing it, or you can just buy some rail. So I had to buy another box of 80 tiles, hoping that bright snow white is consistent from 8 years ago when I did the bathrooms. But the whole box was only $13. So the cost of the tiles is almost negligible (one 12×12 mosaic sheet was $12.50; the accent costs way more than the rest of the tile). But at least I'm using some of the old tiles. 80 new tiles plus my 52 glossy tiles is still only 132, giving me only 5 tiles of waste. They say you need 10-15% extra for broken tiles, partial pieces, etc. So I figure I can still use the matte tiles in the top row along the back where you will hardly be able to see them. They are the same color, they just don't reflect as well.