I wrote about a self-adjusting timer back in 2008, but only wound up buying one yesterday, once I realized they now worked with compact fluorescent bulbs, and after checking that I had a white neutral wire available in the switch box. I got the Defiant Daylight Adjusting Indoor Digital Timer from Home Depot (model no 49814, store sku is 469637, internet sku is 203678179, UPC code is 43180 49814). I installed it for my front porch light and set it to come on at sunset and to turn off at sunrise. The timer should adjust itself as the days get shorter, always coming on at that day's sunset and turning off again at the appropriate time of sunrise. It doesn't do this by sensing light, but by calculating the correct time of sunrise and sunset. But the only things I told the timer were that I lived in the southern third of the US, the current date and time, and today's time of sunrise and sunset. With some other timers you actually enter the latitude and longitude. I wonder how accurate their approach will be?
Setting it up was kind of a pain. It has all kinds of different programs that can be run for weekends only, weekdays, every day, individual days, Monday-Wednesday-Friday, and Tuesday-Thursday. You can have it come on at specific times or dawn or dusk (others let you have an offset from dawn or dusk, but I think you can overcome this by just entering the offset as the dawn or dusk time; for instance if you want the light to come on at 30 minutes past sunset and sunset is 8:00, just tell it that sunset is 8:30). The 8 triangular buttons you use for setting the time or programs are hidden behind a cover the size of a postage stamp, so it isn't easy to read what is written on the buttons at all. And the instructions are complicated enough that I'm not sure you could figure it out on your own.
Using the Star Walk app on my iPod, I entered the sunrise time today as 6:49 AM for Atlanta, GA, and the sunset as 8:40 PM. I will check back every now and then and see if it is adjusting like it should.
I'm not sure whether getting new plug-in timers is as compelling. I already have three electro-mechanical plug-in timers that I use to turn lamps on and off. They were cheap and they work fine except they don't correct for varying lengths of days (so I make adjustments every now and then by turning the dial) and if there is a power outage, they stop and will be off by the length of the outage. To avoid problems with power outages, the new wall switch has backup power, but I'm not sure whether that is a rechargeable battery or a supercapacitor that will hold a charge for a while without power; some other brands use disposable CR2 batteries. The supercapacitor would be best because it would never wear out. I kind of wonder how much energy the timers use. Part of the point is to save energy by turning off the light when it isn't needed, but compact fluorescents don't use that much energy anyway. I read somewhere that they may use 4 watts, while the bulb itself is maybe 12 watts. So while the bulb is on, you're up to 16 watts.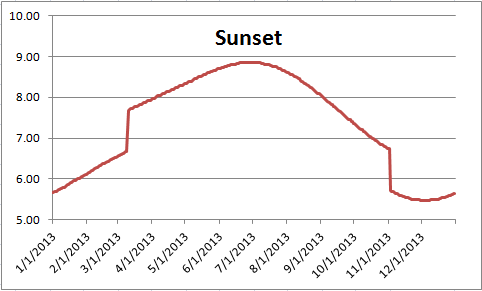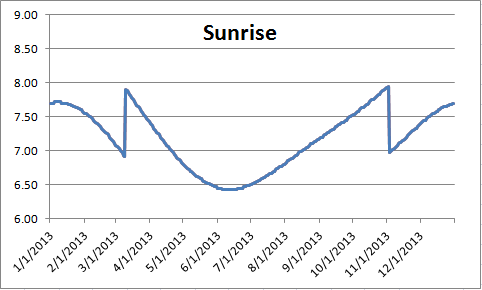 For my back porch, if I were to get a switch, I would probably have it come on at sunset and go off at about 1 AM. Then I could have it come back on at about 6:30 AM when I get up and go off again at sunrise. The problem with that is sometimes the sun rises before 6:30 AM, so it might not get to an off condition until the next day. You can do multiple on-off pairings, so I might be able to get around that by having another on-off program that would turn the light off at 8:30 AM regardless. Well, I checked Star Walk and the earliest the sun rises for the entire year is about 6:25 AM, so I could just have the light come on at 6:20 and then go off at sunrise and I should always be okay, depending on how accurate its sunrise calculation is. If there is a neutral wire in the box for the back porch light, I will definitely get one of these for that switch too.
| Date | Sunrise | Timer | Error | Sunset | Timer | Error |
| --- | --- | --- | --- | --- | --- | --- |
| 7/29/13 | 6:49 | 6:49 | n/a | 8:40 | 8:40 | n/a |
| 8/26/13 | 7:09 | 7:04 | 5 min (25%) | 8:11 | 8:18 | 7 min (24%) |
| 9/22/13 | 7:27 | 7:19 | 8 min (21%) | 7:34 | 7:56 | 22 min (33%) |
| 10/26/13 | 7:53 | 7:37 | 16 min (25%) | 6:51 | 7:29 | 38 min (35%) |
| 11/23/13 | 7:19 | 6:53 | 26 min (29%) | 5:31 | 6:07 | 36 min (28%) |
| 12/26/13 | 7:42 | 7:11 | 31 min (27%) | 5:35 | 6:11 | 36 min (29%) |
| 1/26/14 | 7:39 | 7:08 | 31 min (28%) | 6:03 | 6:29 | 27 min (23%) |
| 2/27/14 | 7:10 | 6:48 | 22 min (27%) | 6:32 | 6:44 | 12 min (18%) |
| 3/31/14 | 7:28 | 7:19 | 9 min (23%) | 7:57 | 8:07 | 10 min (23%) |
| 4/27/14 | 6:54 | 6:59 | 4 min (80%) | 8:18 | 8:23 | 5 min (29%) |
| 5/26/14 | 6:32 | 6:36 | 4 min (24%) | 8:39 | 8:40 | 1 min (100%) |
| 6/26/14 | 6:30 | 6:31 | 1 min (5%) | 8:52 | 8:59 | 7 min (37%) |
| 8/3/14 | 6:53 | 6:51 | 2 min (50%) | 8:36 | 8:36 | 0 min (37%) |