I told Mom I was going to Belgian Beer School and she thought I said "Belchin' Beer School" or maybe she said "Belch 'n' Beer School". The Beer Growler store near me was having a tasting with Ommegang Brewery, a Belgian brewery in Cooperstown, New York. How Belgian could a brewery in New York be? Pretty Belgian; they are actually owned by Duvel, a real Belgian Brewery, and they have some excellent beers. When I was first getting growlers, I found out about their farmhouse ale, Hennepin, and it quickly became one of my favorite beers.
I'm not sure how I missed it originally, but the Beer Growler re-posted the upcoming event on Facebook and I signed up. They said they would be trying out some of Ommegang's other beers, but not Hennepin. On Beer Advocate, Ommegang's beers get very good reviews, so I figured even without Hennepin this would be a good bet. Later on, the Beer Growler said they would be offering appetizers from Pine Street Market, a local meat place that makes different types of sausage and bacon products, so I was looking forward to trying some of what they have to offer. Then they said they would also be giving everyone Ommegang glasses which are quite nice, not the typical pint, but a gold trimmed chalice. So I was definitely getting psyched about this.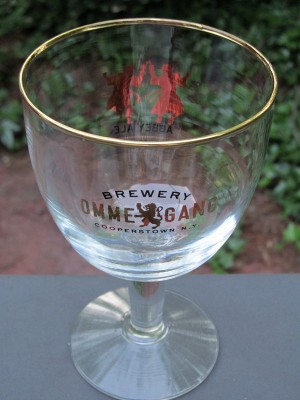 The time of the tasting was 7:00 PM tonight, so I walked over there in the rain and sat down at one of the four tables by myself, but a couple of other guys came in pretty soon after and sat down with me, introducing themselves. Eventually a couple walked in and sat with us, so that was five at our table. It's a funny situation, because you are about to get pretty snockered with these people that you randomly sit with. The two guys are pretty talkative, having attended a number of different beer schools and were pretty funny, and the couple is a little more laid back, but they definitely let loose too after a few rounds. Everyone really likes beer, so we all have that in common.
The guy from Ommegang starts talking about Belgian beers and they put a mostly full 64 oz. growler of beer on our table. The beer is Belgian Pale Ale and it pours out a solid orange color. They are trying to compete with very trendy, very hoppy IPA's. But they are sticking to their Belgian roots, so they don't want to get crazy with the hops. Therefore it isn't all that bitter, but has a strongly hoppy flavor. Pretty good, actually. We are trying to eat this nice sampler of meats and cheeses, but there are no utensils, so I get out my pocket knife to cut hunks off the bleu cheese and we eat some of the odd looking meats in front us which include a barbecue pork fruit cake, prosciutto, salami, bacon hash, bleu cheese, and some other kind of creamy cheese, along with some crackers. Nobody's that worried about germs, but we're all strangers so we're being pretty careful.
The next beer is Rare Vos, an ale with some caramel notes to it. It tastes kind of plain to me. There are reasonably long breaks between the guy talking for us all to talk and sip the beer (well, you can sip while he's talking too). It is kind of an interesting dynamic about who fills up with the most beer from our shared growler. People are generous, but some people are liking some of the beers more than others. The next beer is Abbey Ale, a Belgian Dubbel, and significantly more caramel than the one before. It seems kind of sweet, but not overpoweringly so. The Ommegang guy says the caramel is all a product of the types of malts they are using, not actual caramel or sugar. This one is quite good. After that is Biere d' Hougoumont which is more like a wheat beer. Also good. The room is getting louder and louder as people drink more beer. And the beers are getting stronger in terms of alcohol content. The last beer is Art of Darkness, an 8.9% alcohol beer that is again quite good, a strong dark ale. The Ommegang guy gave out some t-shirts to people who could answer some questions about what he had been talking about all night, but I wasn't fast enough with my answers.
When I signed up originally, I paid extra to get a 32 oz. growler of any of the beers, and chose the Abbey Ale as my favorite. I liked the caramel flavor and I guess the 8.5% alcohol. I left with my growler and umbrella before realizing I had forgotten my Ommegang glass (still forgot my diploma). I went back to retrieve it and pretty much stumbled home, which was only a block or two. I can't imagine trying to drive after that.
Ommegang was a great brewery for this kind of tasting. There aren't many others that I would necessarily want to try, but if Founders did one, I am pretty sure I would go.