Maybe the first time I learned about getting draft beer to go was at Jeb's birthday party last year when Nicole brought her dad a beer growler from a store in Athens that fills up jugs of beer to take with you. Later on at a brew pub in Wilmington, NC. A person brought in a jug to be filled from the tap. They had some kind of special bottle washing machine that looked pretty neat. They had a really cute bartender in shorts and a tank top who seemed to have a tattoo that started on her shoulder and went down to her thigh . . . well, I digress. They had a few different beers on tap that they made themselves. I wound up with a Belgian Tripel, which I picked because I like Belgian wheat beers. All the beers came in glasses specifically meant for that particular beer, but what I didn't realize is the Tripel is a very potent beer (9.3% alcohol instead of the usual 5.5%) and they serve it in a tiny little glass. It was good though. My friends got manlier glasses of beer after getting their wives to let them come to the brewery with me instead of shopping.
Not too many months later, the exact same store in Athens that Nicole had gone to opened their second location in Avondale, within walking distance of my house. I wanted to go try something, but you have to drink the beer pretty quickly because once you open it, it goes flat in a day or so. I was talking about the place with someone at work, and I thought maybe I could get a growler and take it up to Mom's for Easter.
They have about 50 beers on tap and keep a list online because it seems to change pretty often. Looking through the list I found a Belgian Saison. I had a Sam Adams Saison recently that I thought was pretty good, so I was open to another one. Plus, looking at scores the different beers on the list had received at Beer Advocate, the New York-based Ommegang brewery got raves for their saison, called Hennepin.
I walked up to the store on Saturday afternoon before Easter and there were a couple of customers already there, so it does a pretty good business. It's just a bunch of growlers and t-shirts for sale and then a bar with a ton of taps behind it. I stepped up and ordered a 64 oz Hennepin, though they also have 32 oz jugs. The prices are up on a chalkboard (not posted online, which is a little vexing). They gave me a jug from behind the bar and put a shrinkwrap seal around the lid after filling it.
In Athens the next day I tried to get people to try out Hennepin, but I think Jeb was the only one that got one. Gin and tonics seemed to be the order of the day. It is pretty much a wheat beer, which I really like, but I don't think Jeb is as crazy about. But he and Grant both seem to like Pale Ales, which I don't really care for. I found out why when I read about IBU's which is a bitterness index. Hops increase the bitterness of the beer. So while I like the idea of a hoppy beer, I don't like the taste. A stout can have a pretty high IBU value, but the malts cancel some of that out. Wheat beers aren't particularly bitter, but the wheat has a distinct taste to it.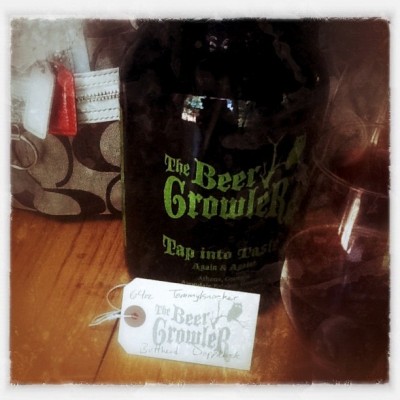 I finished my taxes during the week and I thought the reward should be another growler. When I went this time I asked what the deal was with a deposit on the growlers. They said you can buy a growler for $3 and then trade it in each time you come in, for either a 32 oz or 64 oz replacement. So this time I got a 32 oz jug. I don't think they charged me the first time, but I was back again, so they still did pretty well. There is a very small brewery based in Avondale called Wild Heaven. They have a well-regarded beer called Eschaton. It is a Beligan Quadrupel. I don't think the Dupel, Tripel, and Quad are really that related. The numbering scheme seems to refer to the alcohol content instead. Eschaton is quite potent (10.5% alcohol), but is brewed in winery barrels, so it has a lot of wine flavor, but is also quite sweet (and packs a punch; I definitely did not want a full 12 oz glass of it). I was glad to give it a try, and it seems to have a pretty unique taste, but I don't know that I would get it again. Meanwhile, they had already run out of Hennepin.