Today I was reading a post at Budget Light Forums where a guy baked (broiled, actually) a black flashlight in his oven and changed the color (link). Well, since he told a bunch of other people who also own more black flashlights than anyone could need, soon a lot of people were doing some baking. Some of the lights would turn orange or bronze. Some just turned brown or kind of purple. So naturally, it wasn't long before I turned my oven to broil as well. I chose two lights that I don't really like that much, one of which is an inferior copy of a light I do like. I took them apart and removed all the electronics, switches, o-rings, glass lens, and then put the aluminum parts back together. I tried one of them and it turned kind of purple. So I put the second light in there and then added a third light that I really do like. The color changed within about 30 minutes, though I kept the first one in the whole time to see if it got lighter. They all came out differently. Here is a picture of the three lights plus a control that was not baked.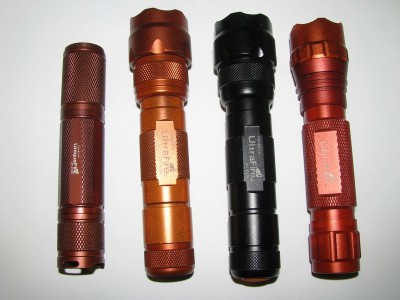 The first one is kind of chocolate brown, maybe like an old penny (here's a post of what it used to look like). The second light looks like it is made from copper tubing and used to look exactly like the unbaked third light. The last light is sort of reddish brown, again maybe a shade of copper but with more red (before). Pretty neat.
Later on a guy posted a video on YouTube where he just puts the light directly on a burner of his gas range and cranks up the heat. Takes about 3 minutes that way. Later on after I put the lights back together, I took this picture. I'm really liking the way these turned out. Each one has a distinct color.