When I first started learning about flashlights last year, I went to CandlePower Forums (CPF). It is a very active discussion area and there is a wealth of information there and members who know crazy amounts about flashlights. But they kind of look down their noses at people like me who buy cheap Chinese lights from DealExtreme, sometimes even showing outright hostility and intolerance towards even discussing cheap lights (for instance if you provide a link to a light you see at DealExtreme, the moderators will delete it). And if there is one thing I can't tolerate, it is intolerance. So early this year one guy got fed up and started his own discussion forum dedicated to cheap lights, called Budget Light Forum (BLF). It has been nice to have a place like that and I have posted reviews of some of the different lights I have bought. There are people from all over the world on that forum.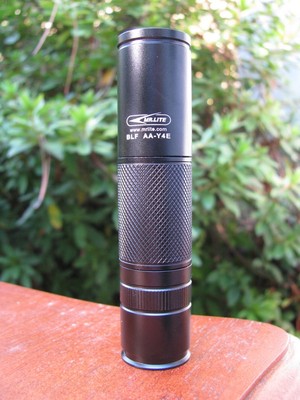 Lately I haven't been as into flashlights as I was for a while because really I have everything I need and at this point I'm just buying stuff to try out or compare to my other lights. But I got the bug again last week when I bought a nice light, then had to return it to the store in Smyrna. Meanwhile, the company that made that light introduced special editions of its lights using higher performance LED that nobody has been able to buy yet (very exciting). And they were using the new ANSI/NEMA FL-1 criteria to say how much light it produced with the result being the claimed lumens (light output) are actually lower than their older lights even though the new lights are 7% brighter. So I wound up researching the FL-1 standard and writing a Wiki article about it on the CPF Wiki. With all of that going on plus writing a review of the Quark light and visiting the flashlight superstore, it was a pretty much a flashlight weekend.
Then this morning I was reading that the guys at BLF finally got a new Chinese flashlight maker (Mr.Lite) who had been trying to sell them lights for a long time to make a special edition light just like they wanted. The result is the Mr.Lite BLF AA-Y4E. It doesn't really roll off the tongue, but the "AA" means it uses an AA battery, the 4 means it is 4 brightness levels (no flashy modes! that was a must), and the E refers to the Cree XR-E LED it uses. It comes in black or silver. It is almost exactly the same as the Mr.Lite J4 (reviewed here) except that it is pretty easy for them to reprogram the chip that controls the brightness levels and strobes, so whereas the J4 comes on in High, the reprogrammed "BLF" comes on in Low. The light is being sold by a Chinese mail order place called Manafont that competes with DealExtreme but sells most of the same stuff. Some of the Manafont people have been marketing their site at BLF (amazing because there are only 184 members on the forum and only a fraction of them are active), and in fact I didn't even realize the BLF light was in the works until I saw Manafont's ad on the website today.
I think it's neat that all of this came together and so, while I probably wouldn't buy this particular light on its own, I figured I should support the cause and reward the two companies involved for listening to their customers. Here is Manafont's product page and here is the BLF thread talking about the release of the new light. I should get mine in a couple of weeks.