After looking closely at the Toyota Prius and Honda Civics in Part 1 I started looking very closely at the Mazda 3. The 3 comes in too many varieties to keep track of, but got good reviews in Consumer Reports with very good expected reliability. The mileage was just a mile per gallon or two less than the Civic, but it has more horsepower and therefore better acceleration. By choosing a manual transmission, the mileage should still be very good, around 27 mpg to the Civic's 28. While the Civics were running around invoice price, the 3 is selling below invoice due to some dealer incentives. The guy at the dealer said via e-mail that his offer was for me to build any type of Mazda3 I wanted and he would take $2,000 off the MSRP, putting it below invoice. For about the same price as the Civic LX without a sunroof, I could get the 3 with a sunroof and a stereo that holds 6 CD's (including MP3-encoded CD's). Like with Honda, I could get 1.9% financing for up to 36 months. So I can finance $11,000 and pay about $320 a month. Then I only have to come up with $7,000 in cash.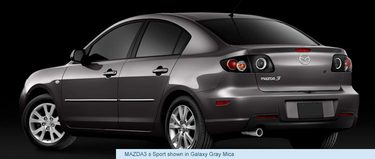 Not wanting to waste any time and having already taken the morning off to take the dogs to the vet, I went to visit Roswell Mazda today. They did not have any manual transmission cars because they said with Atlanta traffic most people seem to want automatics (I think cell phone usage in cars is playing a part too). There was nothing particularly great about the car. It was very similar to my Civic but with some nice touches. For instance, it has an aux input for the car stereo so you can hook up your iPod. Rather than have a jack on the front with wires hanging out, the jack is in the console along with a power port. So the iPod can sit in the console with no wires showing. If you want to have the iPod out in the car, there is a wire passthrough into the console. Also the console has a top compartment where you can put an iPod if you don't want to put it in with whatever other junk is in the console. The glove compartment will hold a laptop computer. It has air bags all over the place: front, side, and side curtain. It comes with some nice doo dads like alloy wheels, fog lights, cruise control, floor mats, power windows, sunroof, mirrors, etc. It's pretty much loaded.
The only problem was getting the car I wanted. The 3 comes in a 5-door hatchback and a souped up hatchback called the Speed3 shaped like small station wagons and not what I wanted. The sedan comes in an i and s version as well as touring and sport. The s version has a bigger engine, goes faster, gets worse mileage, and costs $2,000 more. The sport model seems to be stripped of most options. To further complicate matters, they came out with a newer version in the middle of their 2008 year, called a "value" edition because they put all the options on and charge more money. This model is called the Mazda3 i Touring Value 4-Door. Of course there are automatic transmissions and manual ones. The only option I wanted was the combined moonroof and 6-cd stereo upgrade which is $890. I didn't think I was picky on colors, willing to go with silver or gray. Originally I also wanted a bright blue, but that one comes with a tan interior that I think would show too much Katie and Austin fur. Silver and gray both come with dark interiors. The gray is called Metropolitan Gray and is a charcoal gray with blue in it. The dealer said it was very similar to a gunmetal gray they offered a few years ago. The only car like that in the southeast was at a dealer in Raleigh. They said that was too far for them to go without charging me additional transportation. I said I would fly to Raleigh and pick it up (on the way home Clark Howard was talking about a $39 deal AirTran is having to Raleigh), but they said then I would have to get the sale from the dealer in Raleigh and it would probably cost me more (they just do a one-for-one trade when they get a car from another dealer, so very little money changes hands). They looked some more and found another gray car in Nashville but it had a spoiler on the back which added $325 to the price. It's a pretty dinky spoiler (not the bigger wing spoiler they also offer, it is called a lip spoiler and is just a piece of molding that fits on the top of the trunk). I asked if they could just order the car I wanted and they said that since the cars are made in Japan that it would take 3-4 months. So I'm buying the spoiler.
They're supposed to get it as early as this weekend, but probably Monday. They were also interested in my car, saying 1998 Civics are very easy for them to sell right now with students looking for cars. The good thing about a trade-in, if their offer is what I want, is that they apply the cost of the trade-in to the price I am paying, which reduces sales tax on the new car (I think). Jeb has also expressed interest, so we'll see.
For completeness, here's a table of the cars I was looking at with the Mazda3, including EPA city mileage and gas costs for 100,000 miles at $3.80 per gallon:
| Car | Price | Mileage | 100k Gas | Total |
| --- | --- | --- | --- | --- |
| Toyota Prius | $26,126 | 48 mpg | $7,917 | $34,043 |
| Civic Hybrid | $24,473 | 40 mpg | $9,500 | $33,973 |
| Civic EX | $19,532 | 26 mpg | $14,615 | $34,147 |
| Civic LX | $17,816 | 26 mpg | $14,615 | $32,431 |
| Mazda3 | $18,105 | 24 mpg | $15,833 | $33,938 |
Honestly, I think the car will get better mileage than 24 mpg, even mostly in the city. If I use EPA's higher numbers for the hybrids and Consumer Reports' higher numbers for the non-hybrids, the chart looks like this:
| Car | Price | Mileage | 100k Gas | Total |
| --- | --- | --- | --- | --- |
| Toyota Prius | $26,126 | 48 mpg | $7,917 | $34,043 |
| Civic Hybrid | $24,473 | 40 mpg | $9,500 | $33,973 |
| Civic EX | $19,532 | 31 mpg | $12,258 | $31,790 |
| Civic LX | $17,816 | 31 mpg | $12,258 | $30,074 |
| Mazda3 | $18,105 | 30 mpg | $12,667 | $30,772 |