Prior to today's Macworld keynote speech by Steve Jobs, there were rumors that Apple would announce an internet tablet device with a large touchscreen that would fill a gap between the iPhone and a notebook computer. What Jobs actually introduced was a very thin notebook computer for $1800.
In the days leading up to Macworld I looked up what else was out there. Several years ago Microsoft had introduced Tablet PC's which were to be notebooks without the keyboard. But the idea of a true slate form has met resistance and instead what you have are sub-notebooks and notebooks that convert into a slate by rotating the screen and folding it on top of the keyboard. They're expensive too, more than the average notebook. Later, Microsoft (again) introduced the Ultra Mobile PC or UMPC which was supposed to be a small slate like I am talking about. With Microsoft behind it, it was supposed to run Windows and have several other features. They have gone nowhere either, but a few companies make subnotebooks that are considered UMPC's even though UMPC's are supposed to be slates, without a keyboard.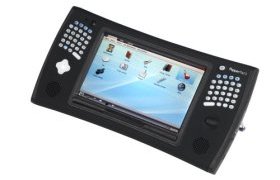 I thought what would be a great idea is an oversized PDA (or iPod Touch) with a 7-11″ touchscreen. Nokia has a line of internet tablets, including the N800 tablet which is $400 $232 at Amazon but the screen is only 4.1 inches diagonally, not much larger than the 3.7 inch screen on my Palm (though the N800's 800×400 screen resolution blows away my 480×320 Palm TX, now down to $236 with no replacement in sight now that Palm has focused on smartphones). Nokia has since introduced the N810 which has a small QWERTY keyboard that slides out ($440).
Last night Jeb sent me an e-mail with a link to an article in Wired about the birth of the iPhone. Apple felt like they needed to develop it internally because of a bad experience with Motorola in developing an iPod/phone combination that was really just a phone. And they were able to use some work they had done on a tablet to come up with a touchscreen interface. I told Jeb that if Apple introduced a tablet today that was less than $800 I would probably buy it. With high speed wireless internet it just makes sense to have an internet appliance where you can surf the net and pull music and videos from your computer's hard drive over the network. I told him they could throw in software to make the device a killer universal remote control just to really impress people.
As I said before, that didn't happen. However, filled with disappointment, I looked up "internet appliance" on Wikipedia and came across a mention of something called a Pepper Pad 3. Like the Nokia, this was an internet touchscreen running a version of the Linux operating system. But this device was larger, with a 7-inch screen (800×480) and a 20 GB hard drive, a USB port, and an infrared port to make it behave as a universal remote control! But at $635 and without the snazziness of an Apple product, the price seems kind of high (interestingly, the Pepper Pad 2 was even more expensive but had an 8.4-inch 800×600 screen and an SD card slot).
Here's the problem: I don't really want a notebook computer because I want something that just sits on my lap, doesn't need a mouse or trackpad (the worst part of a notebook computer) since you just touch the screen, and and has no keyboard (you could add a bluetooth keyboard if one is needed, but most people could get by with an on-screen keyboard). However, the tablet I'm looking for is essentially a notebook computer only with a smaller hard drive, no hinge, and no keyboard. Those things just aren't that expensive. So you wind up with something that costs only slightly less than a notebook but can't be used as a notebook and has much less competition than notebooks. I suspect this is why Microsoft's tablet PC's haven't taken off and why Apple has been working on a tablet for years and never released anything.