I got my new camera today. It was overcast, but the sun wouldn't set for another hour and a half, so I went ahead and took a picture outside on the back porch. From about 20 feet away, I zoomed all the way in with both cameras aimed at the box the new camera came in. While the Samsung has a bigger and better photo sensor and a higher quality lens, the Canon has a much greater zoom at 10x instead of 2.5x. The Canon claims 14 megapixel resolution and the Samsung 20 megapixels, so maybe the sensor could make up a little for the disparity in zooming ability. Not really. I cropped out 400×300 portions of the pictures taken by both cameras and saved them as jpg files. Here's the Samsung: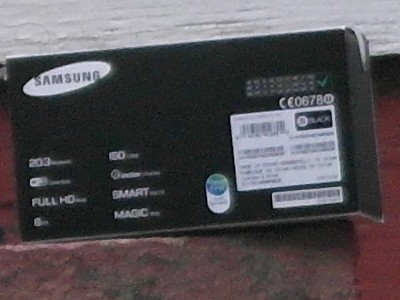 and here is the Canon: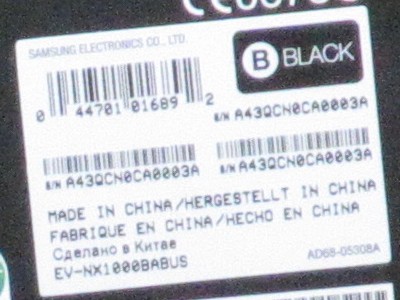 It's really too ugly a day to much more in comparison, plus the Samsung is kind of complicated, so I need to figure some stuff out. Both pictures have a good bit of noise which isn't that surprising at full resolution. The picture I took was in smart mode, which is the automatic mode. I do have to manually zoom in by turning the ring on the lens, but it took care of the focus and exposure. Both cameras were sitting on a stool and took pictures on timer so there would be no shaking.
Here is the data from each picture, automatically selected by each camera:
| | Canon | Samsung |
| --- | --- | --- |
| f-stop: | f/5.6 | f/5.6 |
| shutter: | 1/13 sec | 1/40 sec |
| ISO: | 800 | 800 |