On the Avondale bulletin board a woman was looking for a home for a stray black lab puppy she had picked up in December. She has taken great care of the dog, taking it to the vet, getting him fixed, microchipped, and boarding him because she can't keep a dog in her apartment. I offered to foster care for him while she looks for a home because I know boarding isn't cheap, and I just don't like the idea of any dog being boarded for so long, especially that young.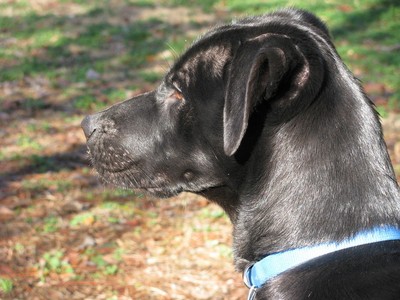 She brought him over yesterday. He is incredibly skinny, but he has a ridiculous appetite so I know he will pick up weight. I can't even feed my two dogs with him around because he just dives right into their food. They don't know if they are allowed to put him in his place, so they just let him do it. He hops right up onto the sofa and stays right beside me, loves to fetch and likes to chew on a nylabone, or really chew on anything he can get to. One of the first things he did was stick his head in a waste basket with junk mail in it and had 3 or 4 pieces of unopened mail in his month, walking away like it was some kind of prize or like he should go deliver it. It was pretty funny.
Katie and Austin are tolerating him, but Austin is kind of freaked out and doesn't even like staying in the same room with him. That's terrible because Austin likes being next to me so much but this dog (his rescuer has named him Moses) just wedges in like other dogs aren't even there.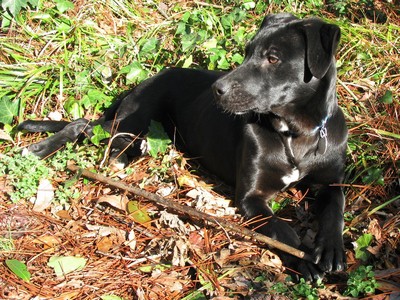 I'll post some pictures this weekend. He looks pretty much identical to Austin except smaller and skinnier.
I only worked 6 hours today, but that still meant I was away for over 8 hours and he didn't have any accidents or destroy anything (well, one dog toy was disemboweled).
He is estimated to be eight months old and is smaller than Austin or Katie and much thinner than either one. He probably only weighs 30 pounds, if that.