It has been six years since I first met the three Estonian college students that stayed with me and sold books door-to-door all Summer. I never heard much from Arni, but I heard from Martti a couple of times, and Madis wrote a year or two later to say that he and his wife had just had a baby.
This week I got an e-mail from Madis saying he was in Tampa for a conference and had a layover in Atlanta with an open ticket for the trip back to Europe. He now works for Estonian Air, the national airline of Estonia as an aircraft engineer (they contract their maintenance out, but he oversees some of that). That is great because I knew he was studying aircraft technology in school, so this is his chosen field. But they are pretty small: Wikipedia says they have seven jets. As an airline they are a big customer so he had a great time in Tampa with conference sponsors throwing all kinds of parties every night.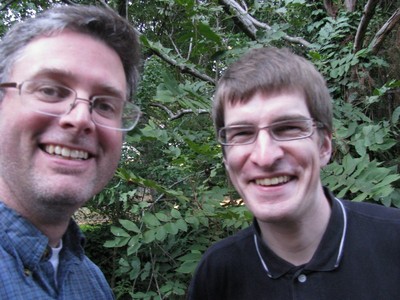 I picked him up at the airport after work and we drove back to my house so that I could let the dogs out. It was still kind of early so we took the dogs for a walk and then walked up to the Irish pub. As we were finishing our meals, Trivia Night started up, so I figured I might as well get an entry form while we were finishing our second beer. It was divided into 4 quarters with 4 questions each and then a bonus round. I got all of the questions right the first quarter, but missed a couple in the second. Still, at halftime Team Estonia was in second place with a bunch of other teams very close behind. However, the questions got harder about more obscure subjects and I missed most of the remaining questions (we didn't stay all the way to the end, it was so bad). Turns out, having a guy from Estonia on your team for trivia doesn't help very much. So it was me against teams of 3-8 people.
Unfortunately the next day I had to be at work to finish up a bridge I had promised to have ready, so I couldn't hang out and show Madis any sights. He decided to spend the day shopping before catching a flight back home. He didn't want to stay too much longer because he wanted to get back on Saturday and spend Sunday with his wife and (now) 3 girls.
It was great getting to see him and I'm glad he stopped by. He said that even if people didn't make much money selling books, he has recommended the experience to people. Walking around with the dogs he said he felt like he should be knocking on doors and telling them about books. I'm sure it was surreal returning to a place so far away from home that is still pretty familiar.
He said some in his group made so much money they came back for a couple of more summers. He also said that after working so intensely that a lot of them went back and just let loose, spending their money and partying for long hours to the detriment of their studies in school (they all missed the first week of school because that was when the books had to be delivered; so they had to hit the ground running). It took him a few weeks just to get his sleep schedule back to normal. That whole experience would make a great magazine article or even a book. He said there were a lot of articles written about it back in Estonia.
Previous The Estonian Series