To do the Palm repairs I wrote about, I needed some smaller Torx screwdrivers. Ace Hardware had size T3, T4, and T6, and above that, but I needed size T5. I went to Home Depot hoping I could get a set of driver bits or an individual screwdriver for five bucks or so. For $4.87 they had a set of 36 driver bits, an extension arm, and a screwdriver handle. It is called the Husky 36-Piece Precision Screwdriver Set.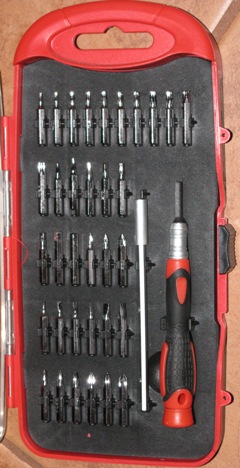 In addition to Torx sizes T5, T6, T7, T8, T9, T10, T15, and T20, it had 6 small slotted head bits, 4 philips heads, 3 pozi heads, and 8 hex heads. At that price, and with a lifetime guarantee, how could I go wrong? Besides, that was the only way I saw to get a Torx T5 screwdriver.
The set is in a nice plastic case with each bit held in place and a clear front cover. But as soon as I put one of the bits in the screwdriver, I saw what horrible product design this is. The driver bits don't snap into place, they just slide in and are fairly loose. So if you hold the screwdriver with the point end down, the bit just falls right out. Put in the extension piece and they all fall apart. They're not even magnetized or anything. It is such a poor design that I am tempted to take the set back and get my money back (scratch that, I figured it out in Comment 4 below). The good thing is that I needed the T6 size too, so if I had just bought a T5, I would have been out of luck.