Well Susan is moved to Texas for the most part. She still has a lot of furniture in her Atlanta house to make the house look lived in while it is on the market. Once the house sells, she will have everything moved out to her professionally. Unprofessionally we packed up a big U-Haul trailer attached to her Jeep and drove out last Thursday. We wanted to leave by 7 AM, knowing it was 820 miles and all needed to happen in a day because it would be hard to stay anywhere overnight with all of the animals. After helping her pack until almost 11 the night before, I was back at her house at 6:40 Thursday morning. There was still a fair amount to do, but the trailer was packed up and ready by 7:30 anyway, so I offered to take it while she got the cats and house ready, knowing the Prius would be able to catch up pretty quickly anyway.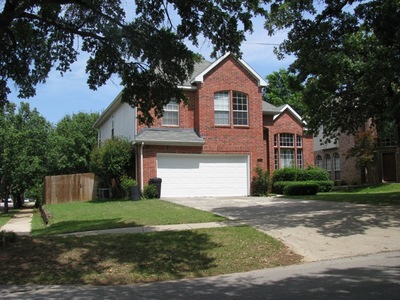 As soon as I got on I-85 and up to speed, the trailer started fishtailing pretty badly and the only solution is to let off of the gas until it stops. So the fastest speed I could go was around 50 mph. A trip I thought would take 16 hours with stops, was now going to be at least that plus stops. And up hills I could barely keep it above 40 mph. Within 20 minutes I got a call from Susan saying that one of her cats had gotten out and run away. It had already been given a sedative for the trip so was kind of clumsy and sleepy, but ran down a storm drain to get away from Susan. Despite a chase through the woods with Susan getting scratched up and a case of poison ivy, it would be about two hours before the cat returned to the back door to be let in.
Still, with me plodding along, she was able to catch up at the Mississippi state line where we walked the dogs at the welcome center (I'd also stopped at the Alabama welcome center, so we stopped in every state). The decision then was should we stay together or let the Prius go ahead. Since I was already set up in the Jeep with my iPod transmitting to the FM radio and with all of my stuff, we just stayed the way we were and Susan sped on ahead (which was a lot easier on the cats who weren't dealing well with the car ride). Slow and steady does not win the race.
I eventually got to her new house (she signed a 6-month lease) at around 1:40 in the morning, so it was a 19-hour trip. Susan did it in 14. I realized when I saw the first U-Haul truck hauling a car trailer behind it that we should have opted for a truck instead of a trailer, plus we really packed that trailer and wound up leaving some stuff in Atlanta that Susan could use in Texas. It would have been easier on the poor Jeep too, whose new trailer hitch was so weighed down that once it got dark I noticed the headlights didn't even shine on the ground, but the overhead signs were brilliant green. In driving 820 miles (almost all along I-20) I never passed a single vehicle. I came close one time in Louisiana, catching up with a slow-moving pickup truck, but then we started uphill and I started losing ground. I backed off to let other vehicles pass us both and waited for a downhill, but at the top of the hill the truck exited.
The next morning the cable guy showed up pretty early (9:30?), but he had a really hard time getting the cable and internet set up properly. In the meantime we got all but the heaviest stuff moved into the house. He finally got it working and 3 minutes after he left the internet stopped working. This put us behind in getting to Six Flags Over Texas (which opened at 10:30 AM), but we wound up getting there at 1:20 and enjoyed some pretty short lines for some really good roller coasters. The best one is the hypercoaster Titan. It claims 85 mph top speed down a huge 255′ first drop (it is on the Top 10 lists for highest, fastest, and biggest drop). It eventually goes into a tight horizontal helix pulling enough g's that I started to black out (awesome!). People black out at 5 g's and it goes to 4.5 so this common. It is similar to Atlanta's Goliath or Busch Gardens Williamsburg's Apollo's Chariot). The floorless Batman Ride was fun and similar to Atlanta's. The shuttle coaster, Mr. Freeze, features a linear induction motor that accelerates you right out of the gate without having to be cranked up a hill (a short, but amazing ride). Mr. Freeze also appears on a number of Top 10 lists for shuttle coasters. The wooden Texas Giant was pretty rough, the double-loop Shock Wave, and Runaway Mountain (an indoor dark roller coaster like Space Mountain in Disneyworld) were not as good. They had a really lame motion simulator ride based on the lame movie Fly Me to the Moon about 3 houseflies that hitchhike with Neil Armstrong to the moon. It wasn't even in 3-D. We got tired pretty quickly after getting almost no sleep, so we left around 5:30, but we packed a lot in.
I've always wanted to visit other Six Flags parks, so it was good to visit the only one older than Atlanta's. Plus it made us take some time out from the whole process of packing, moving, unpacking, and getting settled. That put us a little behind (probably could have bought a refrigerator Friday and had it delivered Saturday instead of buying it Saturday for a Monday delivery), but that was about the only time we took out other than going out to eat or just driving around to see where stuff was.
The flight back was uneventful and much quicker than the drive out. I wound up picking up Austin and Katie Sunday night because Jenny had discovered a tick on Austin's ear and didn't want to remove it. So I went over there and did it and brought them back.