My old roommate, Rich, sent me this website. He has a Master's in Physics and another one in Engineering Science and knew I would like it. I can't really explain it, so you will just have to visit. Basically you build mechanical contraptions to move an object to a certain spot.
http://www.fantasticcontraption.com
It starts out easy, of course. Then it gets harder and harder and the contraptions required get more and more complicated. I started out by always building a little car that would take the object wherever it needed to go. Once you finish a level you can save it or you can look at other people's solutions. If you buy the program, then you can rate people's solutions. There are thousands of solutions, but the really good ones are the 4 and 5 star solutions. The 5-star solutions are just amazing. There are catapults, chains, spear throwers, cranes, lifts, and so on. Some solutions just stumble along, some are just beautiful. Mine are usually cars.
Try the game out first. The tutorial is pretty short and you can do the first few levels in a few minutes each. After you check things out, you can look at some of the ones I did, with links below. Feel free to share your own designs too.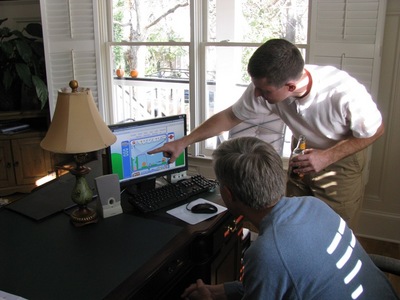 This one is a typical example of one of my designs, for Up the Hump:
This one is a little more elegant, with the nice touch of leaving the object in the target zone permanently, for Around the Bend:
This is an amazing solution (by someone else) to the level Mission to Mars: