Some friends of Susan's invited her to go to Medieval Times restaurant. She asked me if I would like her to take me there as a birthday dinner. I had never been and I don't even think I've known people who have gone, but I was game. As I told Susan, it should be like the Renaissance Festival without the porta potties.
We did a little research the night before to see what we were getting into. It's kind of like dinner theater where the show is people dressed as knights fighting and riding around on horses.

The place is located in Discover Mills mall and you even have to go in the mall ("Welcome to Entry Point 5" reads the sign) to get there. They have a bar and gift shop and the people who work there are all dressed as either serving wenches or serfs plus the knights, squires, and royal family who you will pose with you for a picture ($5). We were assigned Yellow table 5 which meant we would be cheering for the Yellow Knight. We got yellow crowns like from Burger King to wear (which, after the 90-minute extravaganza results in "crown head"). The bar wench said we would have time to have a beer before we were admitted because yellow was always called last. I got a Sam Adams Oktoberfest and Susan had a mango margarita. They are served in plastic souvenir cups with 3-D designs. You can pay extra for keepsake glasses and mugs.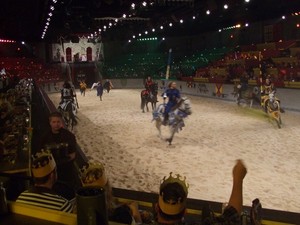 Sure enough, we were the last group to be called. We sat down in rows in front of long narrow tables in an elongated stadium. Yellow was at the far end but still not a bad seat. The ground of the stadium is sand, but was shrouded in thick fog as we were seated. Serf Brandon would be waiting on us. Everyone eats the same thing which was vegetable soup, garlic bread, half a baked potato, one spare rib, and half of a roasted chicken. In keeping with medieval manners, you eat with your hands (the soup bowl had a handle so you could sip out of the side). This is remarkably efficient as Brandon would walk along in front of our table ladling soup, handing out potatoes or whatever. In about a minute he could serve an item to all 12 people at a table. They offered Pepsi, water, or sweet tea. Beer and other drinks could only be ordered via wandering bar wenches. We accidentally found out we could have gotten a vegetarian meal when Brandon went plopping chickens on everyone's plates and I said "I had the fish," which I think Brandon might have thought was funny. Susan chimed in "I had the vegetarian meal." He stopped immediately and started apologizing before she said she was just kidding.
The show itself was actually pretty decent. There are a bunch of horses, at least 12 I would think. There must be about 8 knights, each supported by a section of the stadium. We cheered obligingly for our yellow knight. Not only do they have to handle horses and do all the stunts (including falling off the horse during jousting), but they have to have long hair. We got an idea the yellow knight was pretty good when he was able to catch two rings on his lance in one high speed pass under two sets of rings. When the knights joust their lances splinter into pieces. And when they fight with swords, sparks go flying off when the metal hits.
Anyway, what amazes me is that this is a viable business that can fill seats every weekend. The show is as well organized and executed as the food service. And it has to be kind of a neat job to have.