I went to look at bathroom fixtures and sinks last night. I think I am going to go with a pedestal sink made by American Standard.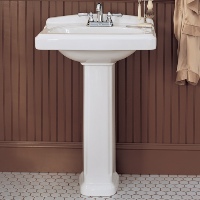 The style is called Williamsburg and is sold exclusively through Home Depot. This bugs me because the only reason they do this is to eliminate price competition, but what are you going to do? They also sell Williamsburg style fixtures. Though they come in a lot of different finishes, I think I will pick the regular chrome with ceramic handles. They come with a lifetime warranty on the finish and operation, so they should last. They use washerless ceramic valves so they shouldn't drip either.

Then I can get shower and tub fixtures that match as well. There are still tons of choices to be made. One is whether I want to get individual hot and cold knobs in the shower or the single knob. I'm thinking individual knobs. For the sink they have a low faucet and a high faucet. Mom says she likes the high faucet better.