The band on my watch is getting very frayed, so I figured it was about time for a new watch rather than spend money getting a new band. I've had fairly good luck with Timex watches so I went to their site to see what they had that would be similar to my current watch.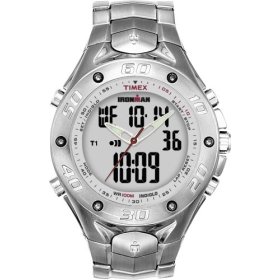 During the search I came across a Timex Ironman watch that has the interesting feature of having analog hands over a face with an LCD display that can be turned on or off. In the comments for the watch at Amazon people mentioned the Will Ferrell movie Stranger Than Fiction. According to Wikipedia the watch practically co-starred in the movie (I haven't seen the movie yet). That article also identifies the watch as being a Timex T56371 model. I guess Timex paid a bunch of money to have their watch in the movie, but it would still be kind of neat having the same watch as in a movie.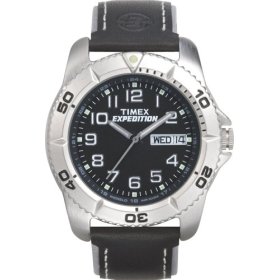 Not enough for me, though. I opted for the less snazzy T42491 which has no digital component. I debated between it and a similar one with a white face (T42501 after deciding against a neat chronometer model. The moving parts of a chronometer appeal to the engineer in me, but it doesn't offer that much utility. I decided it was better to have the day and date than 3 different dials for seconds, minutes, and hours and the date shoved off to one corner. They're really pushing the chronometer because it comes in a several different color schemes including red, blue, and beige. Susan said the red one was ugly.
Anyway, I should get my new watch this week.
Putting together these links it looks like the Timex website is just an Amazon store. Their URLs for their watches use the same ASIN number as Amazon.