Yesterday I went to the Paws Atlanta shelter with Katie to look for dogs. We wound up taking home a near twin of Katie, except he is male.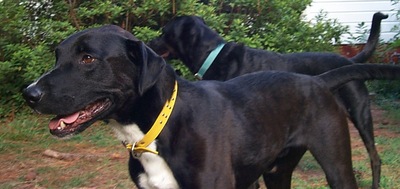 He is part pit bull, I'm sure (he has a big head), but he has a very sweet disposition despite some unsolicited advances on Katie yesterday. I don't think he has barked yet. He is extremely skinny right now, but has been eating a lot, so he should be fine. Though I formally adopted him, I consider him to be on a working test for the first week or so. The shelter named him Austin, which is okay, but I'm thinking about Buddy, Buster, or Trevor. Any suggestions are welcome. Katie seems largely indifferent towards him. They don't play, but they don't growl at each other. He is very affectionate towards me though.

When Katie and I went to the shelter they said we could go around and look at the larger dogs in kennels in the back. They asked if I had brought someone to watch Katie while I looked at dogs and warned Katie could get freaked out with all the barking. I took her around back anyway and the barking was very intense with all of the dogs barking at me and Katie. Katie just didn't know what to do. We stayed back there for a couple of minutes before I realized I just needed to take Katie back to the car, not just for her sake, but for all of the dogs. Only a couple of dogs didn't bark at her. Without Katie, the dogs were markedly more relaxed, but a lot of them still barked. There were probably 40 or 50 dogs, mostly in individual kennels and their names and some statistics were on cards on the gate (Austin's said "Approximate date of birth: 5/21/04 I'm A Big Handsome Boy Who Is Friendly & Loves To Play. I'm Housebroken & Well Behaved Inside. I'll Be Your Best Friend If You Give Me A Good Home! I Do Well With Other Dogs, But No Cats Please."). I wrote down JD, Boomerang, Venus, Baylyn, and Bamba. I was looking for grown females. I thought training a puppy again would be tough and it might be tough on Katie as well having a dog that wanted to play so much.
I went back and got Katie out of the car and took her back to the main desk to ask to see the dogs. While we were in there a large cat jumped out of its unlatched cage and attacked Katie. We hurried outside and waited for someone to put that cat away. Katie is defintely not happy at this point. It turns out the cat was a Katrina rescue. Yikes. But when it wasn't around dogs, apparently it was very laid back. First they brought out Baylyn, who was one of the dogs that hadn't barked at Katie. But after a few seconds of greeting Baylyn growled and jumped on poor Katie. Next they brought out Boomerang who it turns out has been at the shelter for a long time. Katie and Boomerang were pretty much indifferent plus she didn't seem to care much about me either. At that point another shelter person walked up and asked if we had met Austin yet, so I said she could go get him. He was very sweet and friendly, but again Katie wasn't going to have anything to do with him. We took Katie and Austin for a walk together on the dog trail and Austin was very well behaved, so I figured I would get him. They said he had been found by one of the shelter workers a couple of months earlier. He lived for a month or so with a foster family that had big dogs and had been at the shelter the last month or so. They don't have much turnover among older big dogs, so they were very happy he had found a home. It takes a while to fill out the paperwork, but not too much later I was driving off with him and Katie.
Despite his description, he didn't have really good table manners at first (though he was pretty excited). I sat on the sofa and he hopped up on the coffee table. He put his foot in the water dish for some reason and splashed a bunch of water out. But he does appear to be housebroken and will lie down and relax if I don't pet him. He will jump up on me and doesn't know sit, but I think he will learn those pretty quickly. He doesn't growl at Katie, but he did try to mate with her (he is neutered and Katie is spayed, like all shelter dogs) several times yesterday. I thought for a while last night that I would have to take him back (sexual harrassment is grounds for failure of the working test). He must have been reading my mind, because today he didn't try that again.
He is very bony. You can see all of his ribs, vertebrae, and his hip bones too. But he goes through his food without even chewing. I think maybe he wasn't eating as much just because he was around so many other dogs. When he sits he kind of sits on the side of his back end, so he may have had problems with his legs at some point. On walks he kind of goes all over and Katie and I are both having to get used to the whole leg-lifting thing. On our walks today he showed a lot of improvement and mostly stayed on my right, which is good because that is where Clio used to walk.