Yesterday Katie got a clean bill of health and a green light to resume full activies, 16 weeks after her knee surgery. Ironically, I was at the same specialist today taking Clio in for an "abdominal mass" that had been detected by her regular vet last week.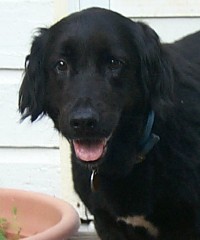 They did an ultrasound and found she has a large growth of some kind on her intestine and several lymph nodes have swelled to a couple of inches in size. They took tissue samples of the lymph nodes to run tests, but it will be Friday or Monday before I hear anything conclusive.
It is possible that they could operate on her intestine and the lymph nodes will just be non-cancerous swelling, but they said if she has cancer in her lymphatic system that they couldn't operate, but might try chemotherapy. I've been reading about dogs with lymphoma (or lymphosarcoma), which is what they think she may have, and usually, even with chemotherapy, a dog's lifetime after diagnosis is measured in months, not years.
Despite intestinal problems, she has been feeling pretty good lately. I've got her on a combination of salmon and rice dry food (for "sensitive systems") with canned food mixed in. I think she thinks she's getting cat food, so at least she is eating and not losing weight like she was in the last few weeks. Also she isn't itching nearly as much, so she has to be more comfortable. She was awfully glad to see me when I picked her up yesterday afternoon and stayed even closer to me than usual when we got home. She drank a ton of water and promptly went to sleep. We went on a walk later on, so for the most part, she is doing pretty well physically.