Kelly sent me this picture that she created with the Mr. Picasso Head website. I have no idea. Thank you Kelly.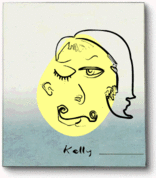 Then mom sent me this one. It's catching…
And then this one came in from Miss Bear:
Susan's contribution to what is obviously becoming a cultural phenomenon. This could change what we see coming out of Paris next spring… even affect the 2008 elections….
From the curator's private collection.