Update 6/4/2012: Don't buy this product. See comments.
I bought my first household LED bulb today. I have tried a series of bulbs for the back basement patio light which I leave on 24 hours because days can go by without us going into the basement. I want to keep mischief makers away from our basement.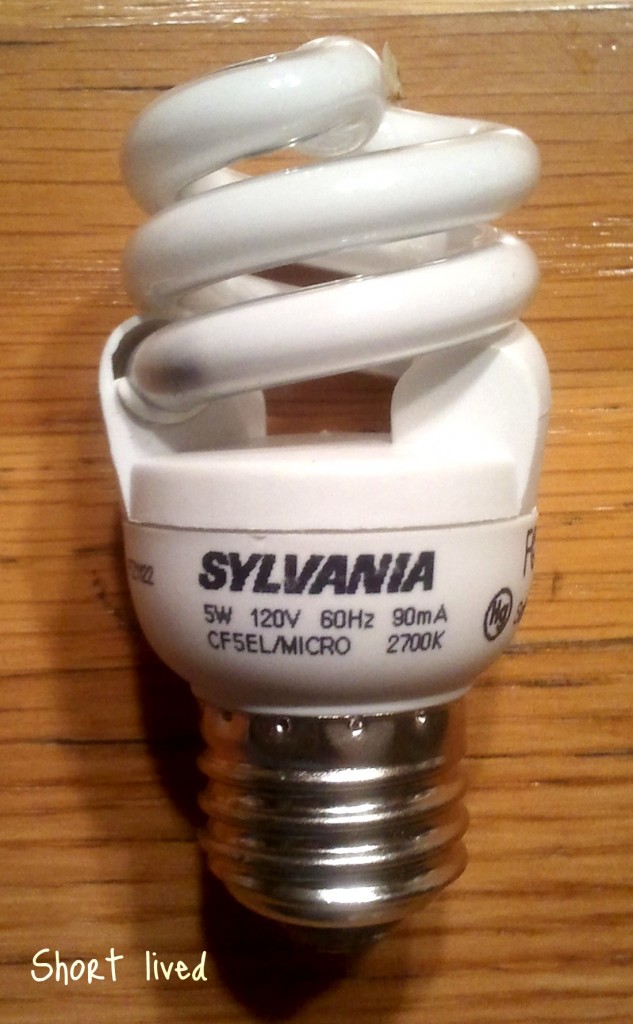 I've had 25 watt and 15 watt incandescents that will last 6 months or so. I most recently tried a 5 watt (25 watt equivalent) micro-spiral made by Sylvania (picture to right.) This is the smallest compact fluorescent (CFL) I've ever bought. Really small. It should have lasted a year, but it only lasted 3 months. Short lived. I think it was not happy being ballast-side up inside an outdoor glass globe.
At Wal-Mart I found a small LED frosted bulb that is a 2W / 25W equivalent generating 150 lumens made by FEIT Electric. It was $6.97 and promised to last 18 years with 3 hours per day use. I'm not sure we'll be in the house more than two years. But, since I leave the bulb on 24 x 7, I did the math and translated the 20,000 hours into 2.2 years.The LED bulb says it is soft white at 3000 Kelvin, but it is a bit whiter than the incandescents and the micro compact fluorescent (2700 Kelvin) but not harsh white. The prices of LEDs are coming down and the color and brightness are getting better.
Thus the LED experiment begins. I may move this one up to the back screen porch, which gets turned off by day. There is a same size / price model that is 1W / 13W equivalent for 75 lumens, so half the brightness and power that I could put in the lower back patio. Hope to not have to comment for 2.2 years…
Note: We all need to become accustom to talking lumens because the 5 watt / 25 watt equivalent will make less and less sense over time.