Comcast sent us a letter saying our TVs will stop working unless we have a Comcast box or get a free DTA (Digital Transport Adapter.) They are going all digital and all customers will need digital controls that allow for things like on-demand movies and even more and more channels.
We don't want either, but our basic TV package would quit working unless we at least order the DTA. The first three are free, so I ordered one for each TV.
Three giant boxes came in the mail and one is pictured below. I think six Apple TV packages would have fit in one Comcast DTA package. Inside the box are: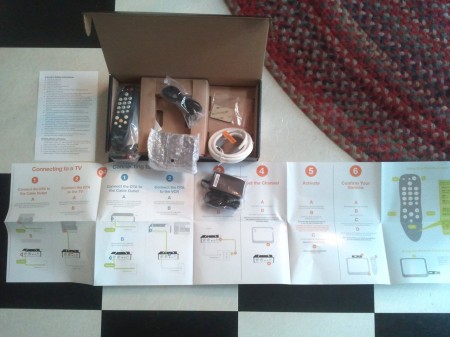 a little hockey puck, which is the DTA
a small AC/DC power supply (oh good, another plug)
a coax cable (oh good, more cables)
an optional IR remote control wire in the event the remote cannot see the hockey puck
a remote control for the hockey puck (oh good, another remote control)
two AA batteries for remote (hey, batteries included)
some 2-sided stickers for sticking the hockey puck on the side of something
a giant, two-sided "simple" set up poster nightmare
a smaller, many-worded instruction booklet
a remote control instruction booklet with tons of secret codes that *might* let you turn your TV on/off and sound up/down with the new remote control.
And that's just one set. Multiply the photo times three.
It took me hours to get all of this junk set up and activated. Our Sony TV went smoothly, but  the Philips with VCR was a mess because of cable complexities. And after much trial and error and Google research, the best we have with the kitchen Magnivox is the mute button on the remote will turn the power on/off and the volume down button will make the volume go up. If we want the volume to go down, we have to use the TV's native remote. Ugh….
Our TVs and VCR are all now "stupid" because all tuning and programming has been taken away from them and moved to the Comcast DTAs. I believe these "free" hockey pucks are Comcast's attempt to grab the digital brains of our TVs before Apple comes in and takes over. I really hope Apple is successful at simplifying both the technology and pricing of TV and drives Comcast out of business. I'll pay extra just to avoid all of this mess!
PS – We use our Apple TV (hockey puck) all the time. It was so simple to set up and uses our AT&T internet connection, so I hope some day we can just turn off Comcast.