Monthly Archives:
March 2007
———————————————————————-
DSL Speed Test 3-30-2007
Note: Outages all week. 1080 d, 128 u
Ted writes that the new daylight savings schedule is like Y2K all over again. For me there are two reasons why he is wrong and one reason why he is right. But I agree that unlike Y2K this change probably causes more problems than it solves.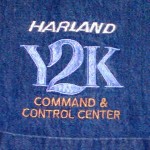 Two reasons this is not as bad: (1) I had to man a Y2K Command Post until midnight on New Years Eve. I still have the denim shirt with the Y2K C.P. logo to prove it. (2) With the help of a few elves, I helped craft a now famous poem, The Bad Y2K. It is famous because it is listed in Wikipedia on the Y2K article. I put it there. Gets about 1 hit per day with 5 pages per visit.
But in one very important way, Ted is right. It is Y2K all over again and even worse. Why? The two of us both had problems today. I had no problems on Y2K day. At work, I use a Mac and Windows XP. In Lotus Notes, all of my appointments showed 1 hour later for the next three weeks. On the Mac all of the appointments showed 1 hour early for the next three weeks. It hurts my head just trying to figure out why there is a difference of two hours here. But that isn't so hard to deal with. I just started off the day mentally subtracting an hour and only looked at my Dell. Except I showed up 1 hour early for my 3 o'clock meeting which showed as 4 and really turned out to be at 4. The host of the meeting laughed at me, which wouldn't be so bad, except this host happens to represent our whole division in the merger planning. "That Jeb… he can't tell time. We don't need anyone who can't tell time in the new organization."
For the real Y2K, there was no job threat. Just a really high quality denim shirt.
Note: Top ranking in Google:

Dear Uncle Bob and Uncle Bill,
Thank you for the opportunity to participate in the invitation-only B.S.R.C. Golf Tournament, although I regret that my opportunity was only afforded at the expense of your (Uncle Bill's) hip ailment.
Thank you also for your contribution of equipment to get me started. As you can see in the photo below, I am well equipped for my fourth set of lessons from my Dad. My goal is to improve to a level where I will neither embarrass you nor the equipment.
In the photo below, you will notice that my father has already begun my instruction as he is explaining where the ball should make contact on the club. You will see where I am proudly displaying Jeff's alma mater, N.C. State. Most of the clubs in the bag are the originals used by Jeff at college, although I have acquired a new putter. At the bottom of the photo you will see my new golf shoes, which are far superior to the last set of $5 garage sale golf shoes I owned, which failed on the 17th hole (all cleats breaking off, leaving only bolts) resulting in the CFO of our company making me finish the 18th hole in my socks.
You will also see the dozen balls, Uncle Bob, that you supplied me in the egg carton. My father tells me these are quality balls, and has yet to let me use them in practice. Instead we use the practice balls he keeps in a Wallgreen's bag in his trunk.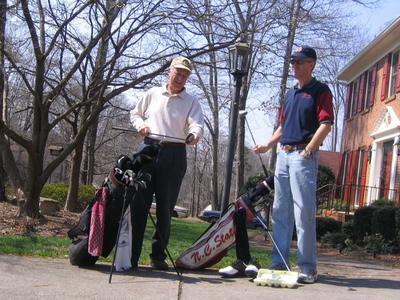 I know all players in the B.S.R.C. are apprehensive about my play. I can assure you I have improved in just four lessons, making logarithmic gains. I suspect we will be able to use one of my drives within the first three holes.
Thank you again. I look forward to seeing you tax-weekend in April.
Your nephew,
Jeb