[I'm posting this to help other people searching for what this means.]
We had a charge on our USAA Visa that read:
ATLANTA BB-CLUB ATLANTA GA  $12.00
Neither of us could figure out what it was. There was no merchant phone number. The merchant category was: Fast Food Restaurants (QPS). The transaction was dated Friday, but we had not been to any fast food places.
I spent about 15 minutes trying to figure it out. Google suggested some bar-b-q places in Atlanta.
So I put it in dispute. The mechanism for dispute is pretty limited. I could not just ask for a merchant phone number or full merchant name, but I figured the dispute would get me that.
The next day I figured it out:
Atlanta Braves Baseball Club.
We had been to the Braves game the night before (Thursday.) Our tickets included some food allowance, which created some confusion, and we're guessing that was one of the food counters. I contacted USAA to cancel the dispute. The stadium should consider reworking the merchant ID that transactions display the word "Braves". May save some dispute work.
The new stadium at SunTrust park was impressive. The weather was great. The food was ok, but very pricey. Unfortunately the Braves lost.
Go Atlanta BB-Club!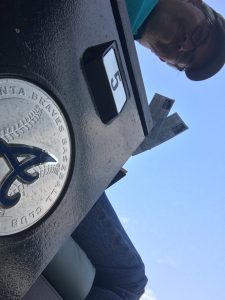 UPDATE:
Must be useful. Mostly Googlers finding this post: